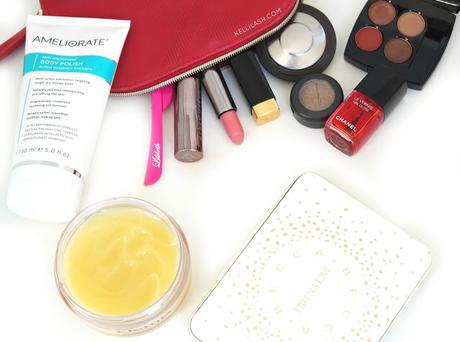 Time for that monthly round up of what beauty products have been in the spotlight for me over the month of August. I have many, many, many faves as you shall know if you follow me on and too many to list as always so I have picked out the key stars that I think you shall all love and enjoy too. We are in that transition stage where summer holidays have ended, children are back to school and the Winter/Fall collections have made their way onto the fore front and I hate this in-between stage as I feel sad to see summer go and try to cling on to it as much as I can, but I do enjoy the autumn months when they are here but for now, we are very much still in summer dresses and sandals here in the South of France as a heatwave is in full flow! So let's have a look at what has earnt that gold star status this month ...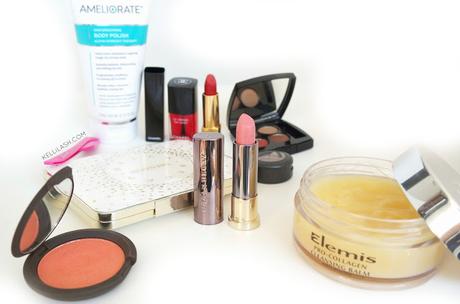 One extra addition to begin with ...
This 1. ROSALENA Frank and Sense Face Oil [Buy here!]
magical face oil has actually been a favourite of mine now ever since I received it some few months ago but I did not want to reveal anything about it until I had posted up my full review of Rosalena oils on the blog with all the details because being such a stunning product, Rosalena really did deserve our full attention which is now live [ in case you have missed it! As I explain in that post, Frank and Sense is an all season, 100% natural beauty oil, rich in anti-oxidants and bio-active ingredients that rehydrate, regenerate and nourish the skin. It is the perfect antidote for seasonal skin changes, effective for post sun repair and to combat the drying effects of winter. Get your glow, whatever the weather basically. Let's be 'Frank' because this oil makes perfect 'Sense'. So name worthy! This has kept my skin looking its absolute best all summer long and the only way I can describe it's results is 'the best nights sleep your skin shall ever have'! This is such a beautiful face oil and one that makes you wake up glowing every time you use it. Please do go and read my full post about Rosalena oils as I highly recommend them to all and you know by now that I only ever recommend the best products that I have fully tried and tested. ** As a special incentive from Rosalena personally, they have kindly offered all of my readers a on their site so simply enter at the checkout [ 20% discount off any purchase KelliLashLoves here] .
I received this 'new to me' product as part of my first Mintd Box and I am so glad that it was introduced to me as it has to be already, one of my favourite body scrubs of all time. The fact that it smells just like baby powder won me over straight from the start! Ameliorate Body Polish is a high tech exfoliator formulated to encourage exfoliation above and within the skins surface. The whole Ameliorate range is designed to work on Keratosis Pilaris i.e. skin that looks like 'chicken skin' and occurs mainly on the arms and legs and the body lotion is now high on my wish list too. This exfoliator combines Lactic Acid with polishing micro-dermabrasion granules and a moisturising complex which effectively sloughs away dead skin cells and smoothes rough dry bumpy areas. Talk about multi tasking - impressive hey! This is like no other body polish that I have ever used before as it looks just like a body lotion (baby lotion in fact) but has this powerful action that really does make a noticeable difference and doesn't hurt to use either. You actually use this one on dry skin a few times a week before you shower so the lactic acid can absorb and get to work under the skin, but after a few minutes you rinse off and thats it!. I have been using this twice a week for the past month mostly on the tops of my arms where I get KP and already my skin feels smoother and looks a lot more even. In fact this product is so good and loved by so many of us that it now Award Winning having just won 'Best Body Scrub' in the Glamour Beauty Power List 2016 Awards! Now that is proof of a star product right there.

I have mentioned this many a time on the blog but having just started a brand new pot, my passion for this product continues. A multi award winning, hero product which once you try, you shall appreciate exactly why this is so. Known famously as a ' 3. ELEMIS Pro-Collagen Cleansing Balm
spa in a jar' the perfect way to describe this special cleansing treatment balm. This is like no other cleansing balm as it really is an experience not just a skincare product which is why it is loved by so many, including me of course. This high tech balm is perfect for all skin types and dissolves make-up, takes away impurities and softens the skin all at once. It contains luxurious waxes of Rose and Mimosa infused with essential oils of Elderberry, Starflower and Optimega aswell as the powerful anti-ageing ingredient, Padina Pavonica and the aroma of all of these together shall literally put you into a spa like trance. It is unbelievable and if you have not smelt this balm then can I can please suggest that you do because you are missing out! Cleansing is the most important skincare step to take so why not make it extra special to the point where you cannot wait to wash off your makeup and cleanse your face? Not only that, but this is a multi-use product that can be used as a hydrating mask, an overnight mask and a moisturiser for the cold winter months. So, ordered yours yet?
4. CHANEL Le Rouge Collection No 1
If you are a regular reader to my blog then you shall know just how much I LOVE this Winter/Fall collection by Chanel. It is 100% my favourite makeup launch this Autumn. For me it ticks all the boxes of being such a versatile wear and has really inspired me to get more creative and play with new colours that I would not usually wear i.e. a red/brown eye! This is a debut collection designed by Global Creative Colour Designer, Lucia Pica who expresses the power of red throughout the entire line to give women a new power. It has most definitely been a hot subject topic of conversation with most of us loving it. The palette was the main topic being the first 'all matte' quad that Chanel have ever made and although there is a red eyeshadow in there, it is in fact perfect for both neutral and colour lovers. Out of the whole collection I would highly recommend the eyeshadow quad, any of the lipsticks and the unique Nail Gloss should you want to pick up anything for yourself. I have written a full run down about all these products with full make-up looks so please check it out if you want to see more

5. URBAN DECAY VICE Lipstick in Weirdo (Cream Finish)
The Vice line is a hot launch consisting of 100 new lipstick shades in an array of different finishes. Yes 100!! That is a lot of lipsticks. I was eagerly awaiting the launch over here and a few weeks ago spyed them in Sephora so I was eagerly swatching away. I will admit, at first I wasn't blown away by them as much as I thought I would be being an avid lipstick lover, as nothing really jumped out at me that I didn't already own. Then I found this little gem as I wanted a few more nude pinks to add to my collection and it wasn't until I wore this that the love started. It was love at first application. This is a cream finish so it leaves a nice shine to the lip without being glossy, just hydrating and the pigmentation is insane. It lasts a good amount of time and the colour is simply stunning and the perfect nude pink that is more pink than brown. You most certainly have to wear these lipsticks to understand how beautiful they truly are. Safe to say, I shall be getting more. (See the whole look in the below pic).

6. MAC Wood Winked Eyeshadow
This has to be one of my favourite MAC eye shadows ever but one that I had totally neglected of late until I wore it recently then wondered how I ever did my make-up without it! I think eyeshadow palettes have truly been taking the spotlight of late so singles have been some what sidelined as I remember a time when it was the other way around!Woodwinked is a shade that has a beautiful warm antique gold that is not sparkly or glittery, just eye popping. When you blend the shadow out, it actually changes colour and warms up making it look like you have spent more work on your eyes than what you have making this the easiest eye look possible. I have simply been wearing it alone on the eyelid, blended into the crease with some liquid eyeliner, mascara and I am good to go! It really is a must have shade to anyones make up collection. (See the whole look in the below pic). pearl finish
I love BECCA as a brand as they really have become well known for their highlighters and for good reason too as they are one of my all time favourites. One of their most recent launches this year were the Shimmering Skin Perfector Luminous Skin Blushers which are a 7. BECCA Luminous Blush in Tigerlily
blush and highlighter hybrid to add warmth and radiance back to any lacklustre complexion without being glittery or sparkly. The powder is buttery soft, very finely milled and blends effortlessly. I was surprised at how small they are compared to the size of the normal highlighters but my oh my, they are super pigmented and a little goes a long way so I can see this lasting a long time. I chose the shade Tigerlily which did look a tad scary at first being a vibrant Tangerine shade, but it really is the most stunning golden coral shade when worn and seeing as BECCA's Global Style Director, Kerry Cole personally recommend this shade for me, who was I to argue and boy she was right! I LOVE it. (See the whole look in the below pic).

Now this was a Limited Edition item that I had been drooling over for months having seen it been released firstly in the USA and I hate being ripped off with shipping so I patiently awaited its arrival into UK/EU and as always, it sold out pretty much instantly. But when Space NK released a limited number back in stock last month, I was faster than Usain Bolt of the blocks and I got it; Boy am I glad I did! This is even more stunning in real life and I find myself gazing into it every time I use it. This is an extension of the Jaclyn Hill Champagne Pop collaboration This palette is so customisable and gives your face all the glow and colour you could want. I love the fact that the new highlight shade is called Prosecco Pop! If by any miracle means you find this palette, get it, you wont regret it. BECCA have recently released
featuring two highlighter shades, Champagne Collection Splits which are duos and are a great alternative to the palette and are available but again Limited Edition so be quick two mineral blush shades and a Luminous Blush hue for some colour. (See the whole look in the below pic).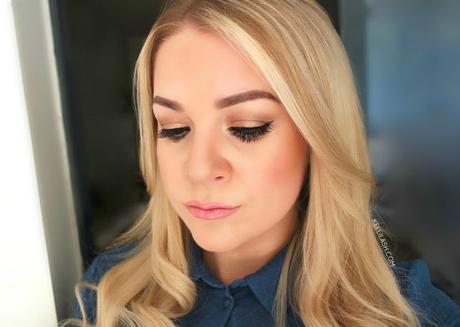 The Look altogether using the products mentioned above!
I most recently wrote a whole blog post about this brow shaper because it really is a brow tool that everyone must own. This brow tool allows you to create perfect eyebrows without plucking, waxing or threading. We all have those fine fluffy brow hairs that make them look untidy and tweezers just can't get at them, well this can. It is not just for brows too, it also works on the the upper lip, chin, along the cheek, back of neck between hair cuts etc and bikini line should you need a little 'tidy up'. Basically anywhere that you have unwanted hair, use it. It does not encourage harsh or heavy regrowth rest assured. It has also just won the QVC Best Beauty Tool Award 2016 so there is the proof of just how good this is (and it's cheap too!). Check out my full blog post about it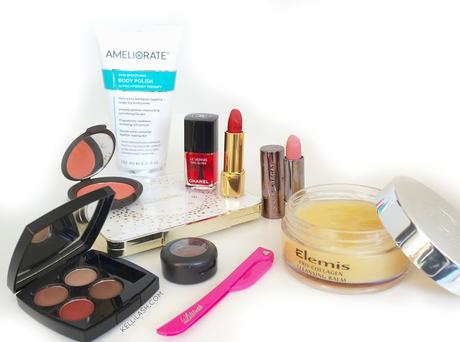 We are now into that 'summer phase out' stage which means skin and make-up shall slowly be changing, so I look forward to sharing more star products with you very soon. If you want a sneak peek of what's to come then see my Instagram for daily updates!
Spot any of your favourites here or have any caught your eye?