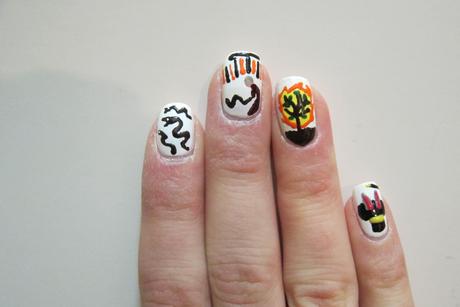 Nail art has been in existence since ancient times, with Egyptians and Greeks using polish to signify their social class. In today's culture, nail polish is more of a beauty aid than political statement. Rabbi Yael Buechler took this trend and created Midrash Manicures, blending traditional Torah study with nail painting. Star of Davida had the honor of interviewing her about this innovative program.

What inspired you to become a rabbi?Since early childhood, my dream was to become a rabbi. Myfather is the rabbi of a large Conservative synagogue, and I treasured hisdevotion and dedication to our synagogue community. When I was in elementaryschool, I even tried to emulate some of his ritual roles by performing babynamings and weddings for my pet guinea pigs (he handled the funerals). Duringmy high school years and college years, I deepened my observances andcommitments to traditional egalitarian Judaism. I came to realize that theJewish community had gaps in positive female role models for my generation. Alltoo often it was perceived among my generation that being egalitarian andfemale is "not cool." I wanted to change that perception through example.I know that I am not alone in this mission and I have met many inspiringcolleagues who transform the image of the rabbinate daily – they are amazingrabbis – who happen to be female.
Rebecca Alpert, one of the first Reconstructionist womanrabbis, said she viewed entering the rabbinate as a feminist act, while otherof her contemporaries felt it was just neutral. To which school of thought doyou belong, if either?I wanted to become a rabbi before I had even heard the term feminist.In my personal journey, entering the rabbinate was a decision based on mypassions, not my gender. I certainly wanted to be a role model for the nextgeneration of Jewish women, but my desire to go to rabbinical school stemmedfrom my passion for Jewish living, Jewish learning, and transmitting Jewishvalues. As I have begun to encounter the unique contributions that women bringto the rabbinate, I can better appreciate Rabbi Alpert's perspective. As arabbi, I have come to value the perspective and programs that I can bring tocommunities given my gender, not despite my gender.
Why did you decide to go into teaching?Part of what attracted me to the rabbinate is that it wouldafford me the opportunity to be an educator in many exciting and differentcapacities, whether in a congregation, camp, non-profit organization, hospital,or school. I certainly explored all of those options while in rabbinicalschool, and last year, I found a wonderful fit at the Solomon Schechter Schoolof Westchester. I know that wherever I serve as a rabbi, I will bring mypassion for cutting edge and engaging experiential education to mycommunity. Having been a student at a Schechter on Long Island, and with fond memories of my inspiring mentors throughoutthose years, it is truly incredible for me to be able to give back to theSchechter network and hopefully inspire others into the paths of their Jewishjourneys through creative portals such as Midrash Manicures.
What motivated you to create the Midrash Manicuresprogram? It seems to be a very random pairing.My middle school social studies teacher, Mrs. Goldstein, wasa powerful mentor in my life. While I certainly enjoyed learning about ancient Egypt, Mrs.Goldstein also taught me about the values of patience, sensitivity, andfostering community. I could not help but notice that each week Mrs. Goldsteincame to class with a new professionally-done manicure. She inspired me to beginto paint my own nails. My personal nail painting was initially quite a mess,but with time and patience, I mastered the basics of applying coats of onecolor. I then began to experiment with more intricate designs such as heartsand smiley faces.
Unfortunately my mentorship with Mrs. Goldstein was cutshort as Mrs. Goldstein had been diagnosed with a rapidly growing cancer thatultimately took her life in February of 2001, in my sophomore year of highschool. To honor her memory, and the impact that she had on me and so manyother students, I continued to paint my nails each week themed for holidays andspecial events.
When I entered Brandeis University, I began tostudy the weekly Torah portion on a much higher level and incorporate thethemes of the parasha into my weekly manicure. Since then, MidrashManicures has been an exciting weekly part of my learning routine and creativeinterpretation of Torah. This past July, I launched MidrashManicures.com inhopes to introduce the world to this creative form of Jewish learning. I alsowas gifted with the opportunity at the Solomon Schechter School of Westchesterto offer a Midrash Manicures Club as an elective at in my role as theCoordinator of Student Life.
I love how Midrash Manicures really epitomizes howeverything secular can be turned into something religious. When you establishedthe program, did you have this in mind?Since I have been doing themed manicures since before I knewanything about the nail art industry, it really did not occur to me that I wasturning something secular into something religious. I always enjoyed paintingmy nails, and I really enjoyed studying the parasha of the week, so thecombination of the two seemed like a natural step in my own Jewish journey. Theoverwhelming response to Midrash Manicures has demonstrated to me the power ofadding our own personal and creative touches to Judaism and to religion atlarge. There are now people around the Jewish world, across the streams ofJewish observances, who visit MidrashManicures.com each week in order to beinspired in their Torah learning as they create their personal MidrashManicures.
There's been a lot of conversation about how MidrashManicures boxes girls into traditional femininity. Do you have a response tothis?I created Midrash Manicures with the intent that this wouldbe a tool and skill set for student-centered learning. The Midrash ManicuresClub, for example, gives students who enjoy painting their nails a venue inwhich they can infuse that activity with meaningful Torah study. There areplenty of other ways that women can express themselves and learn about Judaism.My hope is that Midrash Manicures inspires women to find ways their own ways toexpress themselves Jewishly, be it through art, music, or othermediums.  
Do you have any words of inspiration for the nextgeneration of Jewish girls?It is up to you, the next generation of Jewish women, tobridge your passions with Jewish learning, so that you can take hold ofJudaism. The future of Judaism rests in our hands! Let's paint them wisely.