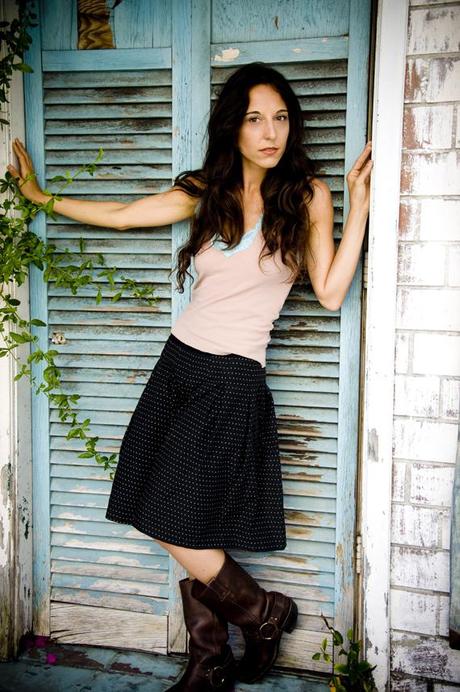 Women have always been important in music. In biblical times, women like Deborah and Hannah composed songs of thanks for God. In more recent times, women have consistently been a hugely important presence in the music industry (for the good and bad). Jenni Alpert, a California native, is one example of female talent on the music scene. She has released six albums, had songs featured on television shows like CSI Miami and 16 and Pregnant, and toured the globe with singers like Sara Bareilles and Regina Spektor. Star of Davida had the absolute honor of interviewing Jenni Alpert.
What got you into music?
I was always a musician and I've always been playing music. I was introduced to the piano and I loved the idea of the mechanics behind it and the sound that it made, and that shaped me as a musician.
Did you ever anticipate that you would become a singer?
No, things really just fell into place. I didn't plan it.
Has Judaism shaped your music at all?
Yes, in a lot of ways. I'm pretty spiritual when it comes to religion, so I think that a lot of Judaism is being part of a community, and music is a language that most people relate to. When I first learned guitar I was asked to learn a lot of the Jewish music, so that's where the connection lies. I do song leading with Judaism as well. It's all about bringing a community together through music, which is a universal language.
What was it like to tour across the world?
I love traveling, so in I feel really fortunate that I can do what I really love and also be traveling and see different countries and the way world works.
I know that you've traveled across the globe while touring. Was it any different in Israel?
All countries in general have a unique spirit to them, I guess a different ruah (spirit) you could say. It's great to go to countries where they have a home language and people can relate to that by how your music sounds.
I think it's great that you go by such a distinctly Jewish name, since singers often change their names to sound less Jewish. Is there a reason you do so?
I never thought about changing it. I don't feel connected to any stigma related to Judaism or any other religion. We are who we are and people will think what they think and feel what they feel, but I'm just proud to be myself. My name is just a name. If someone has an issue with the fact that I'm Jewish, then don't buy my album.
I noticed that you're active in several women's and children's advocacy organizations. Why do these issues matter to you?
I was adopted and I was in foster homes until I was four, so I think that raised a compassion towards people, anyone really. Whoever has experiences like that may shape them. I think perhaps working in the foster care system to help children who have develop their identities is a strength of mine. I was adopted out of a Jewish family into a Jewish family, which was very fortunate, and ingrained a sense of identity in me.
Do you consider yourself a feminist?
I consider myself someone who believes in women's rights and I believe in women taking care of themselves and being aware.
I also saw that you're currently touring to benefit the Blood Driven Tour, which raises awareness of the need to donate blood. Why is this so important to you?
It was inspired by the fact that I have a biological family member who suffers from a blood disorder. I'm going from blood drive to blood drive and performing in order to raise awareness to increase the amount of donors at blood drives. It doesn't really matter that it's my relative, though, because whether you're blood-related or adopted or it's just a friend, there are people who shape your life and whoever they are doesn't matter. It's important to honor everyone that you meet.
What advice do you have for aspiring female singers?
Working on your craft is super important. It's the same with relationship building and being aware of people around you, what other people are looking for. You have to have a really positive attitude and know you can't always create your future, you have to be in the present as much as possible and make a difference that way. I've been all by myself, with no label or manager or agent, and what I've dreamt has unfolded.
Jenni has a new record out on iTunes called Underneath the Surface, produced by the bass player of Blind Melon, Brad Smith. Jenni described it as "an eclectic pop record that encompasses songs that tell stories about coming of age and developing an independent awareness and love for oneself and other people." She is currently touring (as mentioned above), and ends of July 20. Make sure to catch her!