New to little Indiana? Subscribe for free to my RSS feed. Thanks for stopping by!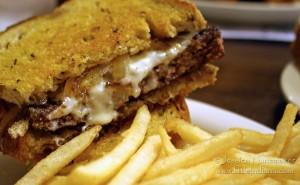 Star City, Indiana: Oak Grove Restaurant
little Indiana
Star City, Indiana
Jones Robotic Dairy owner Pam suggested Oak Grove Restaurant. She was right on target.
Oak Grove Restaurant in Star City, Indiana
While I hate that instant of walking into a small Indiana town place and everyone turning and staring for a sec before getting back to their conversations, I love hearing the cross-table "hello" and "howdy" of locals as they greet each other and chit-chat.
What I also love are good menus. Oak Grove Restaurant has a lot of yummy-sounding things. Tack on changing monthly and daily specials and you've got yourself variety.
Known for their chicken, Hubs wisely went with the chicken strips as did Kid #1. I got the Patty Melt. Ever since Lynn's Restaurant glorious Patty Melt, I just can't say no.
Oak Grove Restaurant Food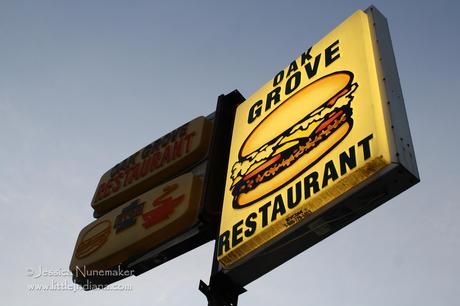 Star City, Indiana: Oak Grove Restaurant
Waiting for our meal is always the hardest part with kids–until our server brought over coloring books and a whole bag of crayons!
It was quickly shoved aside, however, when our steaming plates of goodness were set down before us.
Let me start off by saying that having to take pics of food before we could dig in was particularly agonizing this go-around. Everything looked and smelled SO good.
I started with Kid #1, then hubs, and then my own. Kid #2 had something simple. Whatever it was now escapes me, but I do remember he ate all of his veggies and then asked for more–not exactly how it works when you go out to eat!
After Dinner
What purpose does dinner serve other than letting you get to the good stuff–dessert! Of course we saved room. But that article? Will keep for a different day. I do have two words for you, however: "homemade" and "pie."
See Oak Grove Restaurant images and other pictures in Indiana on my Flickr photostream.
Oak Grove Restaurant
5401 S US Highway 35
Star City, Indiana 46985
574.595.7126

View Larger Map
little Indiana: Where to Stay, Play, and Eat in Small Towns in Indiana. Discovering Indiana's best small towns! Now get little Indiana on your Kindle.
Targeted. Relevant. Affordable! little Indiana advertising!