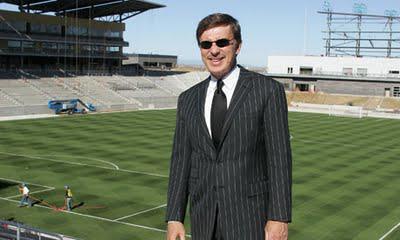 American businessman, Stan Kroenke has announced plans to formally take over full ownership of Arsenal.Kroenke has been a part owner and member of the board at Arsenal since 2007.Met with some resistance at the beginning, Kroenke has shown himself to be a nice addition to the boardroom from Arsenal's business standpoint.With the help of Kroenke, Arsenal has become one of the most successful clubs in the world financially.While rivals such as Liverpool and Manchester United fight their way out of debt, Arsenal are on very solid ground financially and will continue to be in the future.I think that Kroenke taking over will give Arsenal the stability of having one owner calling the shots and the entire group of shareholders will not have to be won over with every important decision.
As a diehard Gooner, my problem with this team is not in the boardroom or off the pitch.It is Arsene Wenger's cheap attitude and the fragile makeup of this current squad.I told you guys a month ago that Arsenal would not win the title and right now I look to be correct.Unlike the takeovers at Chelsea and Manchester City, Arsenal will not be able to go out and buy any player in the world.Even if that were the case, cheap skate Wenger would not want to do that anyway.I personally do not want to build a team that way but with that said, Wenger really needed to use the transfer market to overhaul the squad.I trust Wenger's judgment when it comes to finding diamonds in the rough at low prices and I am fine with that.The problem is that Wenger is too reliant on guys that just won't cut it instead using his phenomenal scouting department to bring in new guys.Players like Denilson, Tomas Rosicky, Abou Diaby, Sebastien Squillaci, Emmanuel Eboue and Manuel Almunia are simply not consistently good enough to be playing at a club like Arsenal. Add to that the fact that many of important starting 11 players could be categorized as injury prone.RVP, Fabregas and Walcott always seem to be hurt and they are 3 of our most important players on the team.Our defense has been thin with Vermaelen out essentially all year and now standout Johan Djourou is on the shelf for basically the rest of the year as well.Being able to trot out quality backups to go out and get 3 points against teams like West Brom and Blackburn are imperative if you are in a title race.
Stan Kroenke taking over Arsenal as the sole controlling owner will not be all that different from what has been going on for the last few years.The independent directors and Kroenke will work hand in hand to make Arsenal one of the most profitable teams in the world.While Wenger will continue to be a cheap skate and the fans will just pray that the Gunners can win the FA or the Carling Cup each season.Due to a lack of quality depth, this team as currently constructed is not consistent enough to win the league or the Champions League.