(For DreamingDancer)
Stage makeup is essential to a dancer's appearance on stage. If there's too little, your face gets washed out and all you can see is a round blob, if there's too much you may seem to have black holes rather than eyes! Each face is very different and it takes some practice to discover what accentuates your face the way you want it to. I would definitely suggest practicing this before a performance so grab a mirror and your makeup supplies and experiment with these steps to see what works with your bone structure.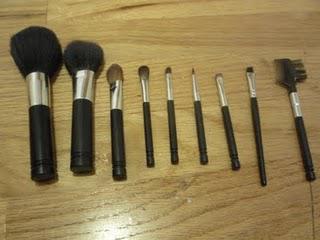 (The numbers in parentheses refer to the brush that I use for that step. I bought this kit for about $12.00 at WalMart and brush 8 I bought seperately)
It helps tremendously to have a clean face before applying any makeup. Remove any previous makeup residue and be sure to pull your hair out of the way. It's up to you whether you do your hair before or after doing your makeup, but it can be less of an annoyance to do it beforehand.
Apply a foundation that matches your skin tone all over your face and slightly blend it into your neck. You can use your favorite brand but I find that
Maybelline's
Dream Matte Mousse
works fantastically. However if you do use the
Dream Matte Mousse
then it will shine when you sweat so a powder to go over it is recommended. Again, you can certainly use your favorite brand but I would suggest using
Maybelline's
Dream Matte Powder
. You now apply the powder over every surface which you applied the foundation.
White Eye Shadow (Brush 3)
Using a brush, apply a generous amount of white eyeshadow to your entire eye lid. (After this step I usually look very ghostly)
My next step is applying liquid eye liner over the very tip of the eyelid. Any brand of black (no extra glitter or shimmer) eye liner will work. Here's a picture of what it should look like: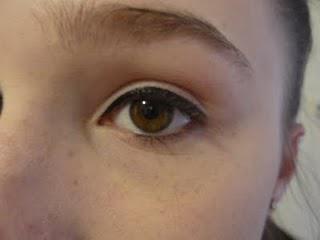 This step is optional depending on the requests of your dance school/company. Applying false eyelashes is very tricky and I would greatly recommend practicing before opening night. ;)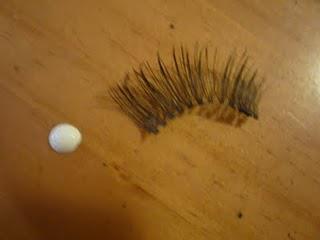 First, trim your false eyelashes so they are slightly shorter than the length of your eye. (Some people may not need to do this) You can guess as to what the right size would be by holding the lashes up to your eye. Next, squirt out a little dab of eyelash glue (I use a brand of glue called
Duo
that is in a blue/white little tube that can be found at your local pharmacy) onto a surface that you wouldn't mind being momentarily dirty. (A bathroom counter, the case for the eyelashes or even the back of your hand) hold the tips of the eyelashes and run the root through the glue so it is lightly coated with the glue. You should wait about a minute for the glue to slightly dry. (After applying the glue it should look something like this)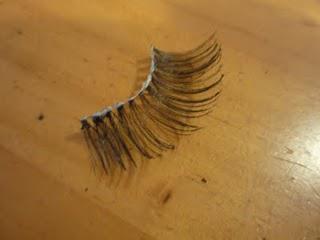 Carefully line up the eyelashes against your own and slightly press down on the edges. Hold it there for 20-30 seconds to allow the glue to adhere to your skin. After you remove your fingers if some of the white glue is still showing then you can cover it with more black liquid eye liner.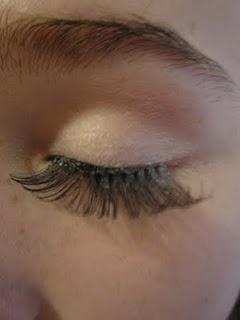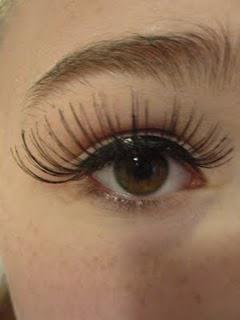 The eye lashes should look something like this. (It will look slightly different depending on the length and brand of the lash)
Brown Eye Shadow (Brush 5)
Apply the brown eye shadow in the crease of your eye, above the eyelid and below the brow bone. The shadow should be darker on the outside of your eye rather than the inside. At the edge of your eye form a sideways triangle that looks like this: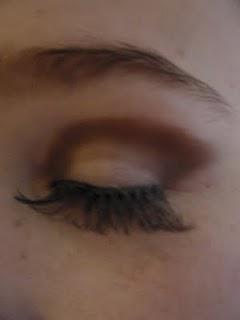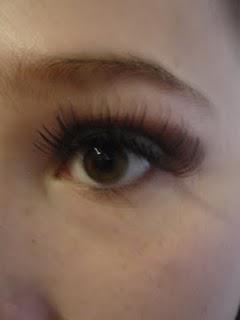 Black Eye Shadow (Brush 4)
Using a light amount of black eye shadow, dab it over the brown triangle you just created. This is just to darken the features and contour your face a bit. Afterwards it should look like this: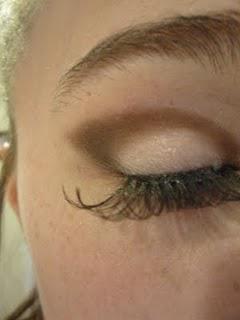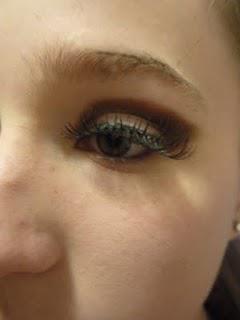 (I usually do this step a bit darker than I did here)
White Eye Shadow 2 (Brush 3)
Above the brown/black eye shadow and below the eyebrow, apply more white eye shadow. This is to highlight your features and better distinct your eyebrow from your eye.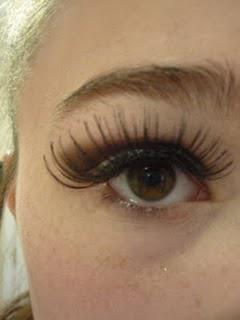 (You can't really see it in this picture but it's there!)
This step is surprisingly more important than you'd think. If you have eyebrows that are thinner in the middle like mine, then your eyebrows may appear short from the audience's point of view. An easy way to fix this is to take a wide angle brush and using an eyeshadow as close to your hair color as possible, lightly fill in your eyebrows. (Don't go crazy or it may look very silly!) An optional step is to take clear mascara and run the brush over your eyebrows to comb them into shape.
Either using an eyeliner pencil or a thin angle brush and black eye shadow, line your eyes as closely to the edge as possible. Keep it fairly thin but dark.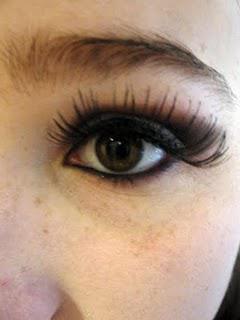 Using brush 2, I apply a generous amount of blush running up my cheek bones. Follow the line of your cheek bones all the way to just before your hairline. Now purse your lips like you're making a fish face. Wherever your cheeks concave slightly is where you'll apply the next step. Using a brush about the same size as brush 3, apply a thin and darker layer of blush to your cheeks. Make sure the two shades blend into each other but you are still able to see the slightly darker shade. Now lastly, using brush 3 apply a bit of white eyeshadow under your eye and over your cheek bones. This makes dark circles slightly less apparent. (Do this part VERY lightly)
Using a red pencil, lightly line the very edges of your lips.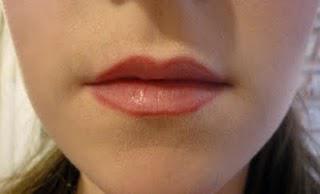 Now using brush 6, fill in your lips with red lipstick.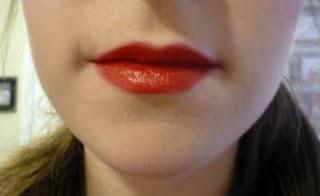 This is only neccessary if you're on a very big stage. Some dancers take a large brush and extremely lightly brush brown eye shadow along their jaw. This makes their necks look slightly longer. If you do this then only put on enough so that it is visible.
Final outcome: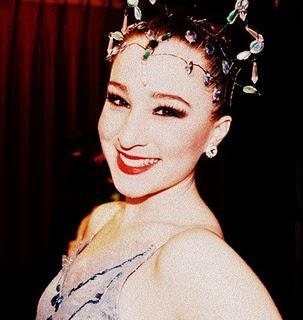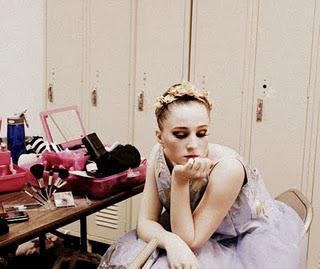 And there you have it! Be sure to experiment with specific shapes and shades. I wish I could help everyone indavidually but that's quite difficult over the internet. I'll always do the best I can though! Here is all of the supplies that I used: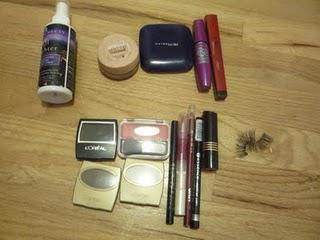 Dream Matte Mousse (Porcelain Ivory)
by
Maybelline
Shine Free® Oil Control Translucent Pressed Powder (Ivory) 
by
Maybelline
Falsies Mascara
by
Maybelline
Lash Stiletto
by
Maybelline
Studio Secrets Professional Eye Shadow Singles (Lush Raven)
by
L'Oreal
Studio Secrets Professional Eye Shadow Singles (Sea Shell)
by
L'Oreal
Studio Secrets Professional Eye Shadow Singles (Brushed Suede)
by
L'Oreal
Essence Eyeliner Pen (In Black)
by
Essence
Mineral Eye Liner (In Black)
by
E.L.F.
Revlon Matte Lipstick (Really Red)
by
Revlon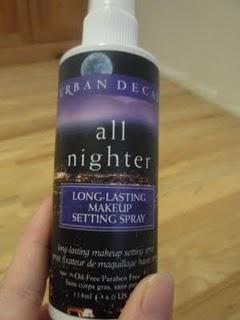 I found a product called
All Nighter
by
Urban
Decay that is used by spraying it on your face after applying your makeup. It better sets the makeup onto your skin so it stays looking fresh longer. On days where I have shows at 2:00 and 7:00 and have to leave my makeup on for long periods of time this product really comes in handy.
Thanks for reading everybody! I hope this how-to was useful and I hope that everyone looks their best out on that stage!
If you have any questions, comments or requests then you can leave a comment below or contact me here.
Break a leg,Ballerinablogger ~