From Main Street Brewing in Vancouver comes their "Stag and Pheasant Imperial Stout". The beer pours an opaque black colour with a brown head. The aroma consists of smoke, roasted malts and chocolate. The flavour is of ash, smoke, chocolate, earth, roasted malts, burnt coffee, vanilla and bitterness. The alcohol content comes in at 9.3% with an IBU of 65. While I enjoyed this beer it was also more smoky that I would personally like.
Commercial Description: Before brewing beer Charles Doering, co-founder of the Vancouver Breweries which now houses Main Street Brewing, owned the Stag & Pheasant saloon in Vancouver's Gastown. In 1888 he sold the saloon to follow his passion of opening a brewery. It is with this same passion to brew beer that we tip our collective hats to Charles with our "Stag & Pheasant" Imperial Stout. This stout is a combination of rich roasted malts which give a deep, earthy taste, while interlacing chocolate, coffee and a touch of pine with a hint of smoke. The bitterness balances out the sweetness to finish off this delicious winter warmer.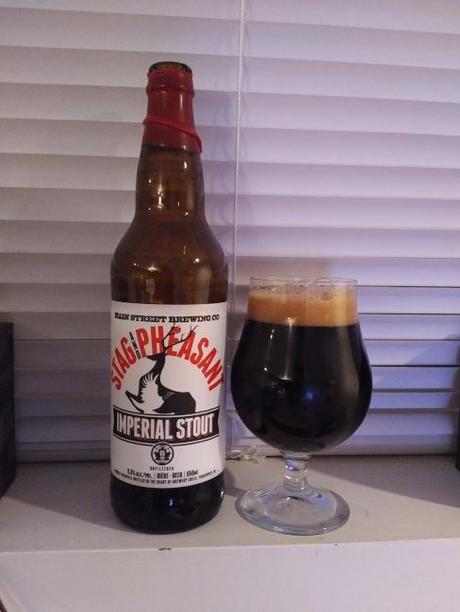 About Mike
I am an avid outdoors man and hobby photographer who loves to spend as much time as possible exploring the beautiful backcountry of the Province of British Columbia and everywhere else! When not exploring nature though I am exploring Craft and Micro Brew beer locally and from around the world. If you love beer like I do please come on a journey for your taste buds. Who knows you just might find your next favorite beer!
This entry was posted in Imperial, Stout and tagged ash, bitter, bitterness, burnt coffee, chocolate, craft beer, earth, east van, east vancouver, hops bitter, hops bitterness., imperial stout, main street brewing, roasted malts, smoke, Stag and Pheasant Imperial Stout, vancouver, vanilla. Bookmark the permalink.