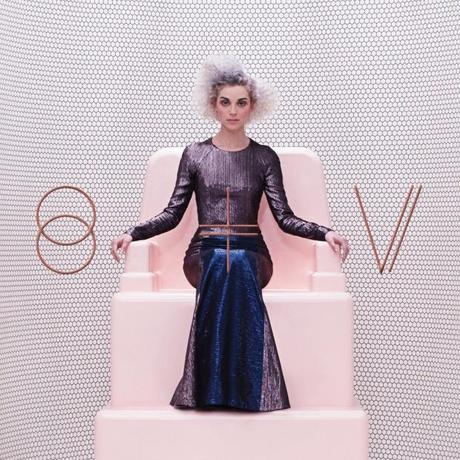 St. Vincent – Birth in Reverse
SoundCloud
Any time I've ever spoken with musicians after their show it's been awkward on some level because I've just seen them transcend to a plane beyond the average human being's (me) comprehension in their performance. Ask any artist why they're so incredible, and they'll tell you they're just a "regular person" or something like that. But we, the fans, know better. Sure, meet them in line for coffee or somewhere else in the real world, and the chemistry will most likely be carbon-based. Directly after a show, though, it's a different story. There's a point within the process of synthesizing their thoughts and feelings into actual sonic material that alters perceptions — they've become magicians. Alchemists. Watch them perform their sorcery live, and it's otherworldly. Extraterrestrial. And that brings us around to St. Vincent – Alien Queen.
Let's be clear, though, as I am referring to St. Vincent, the artist, and not Annie Clark, the human being, who are only the same person in the same way Jekyll and Hyde are the same person. I've never actually met Dr. Jekyll, only Mrs. Hyde, and though we've been acquainted for about seven years now, she still manages to surprise me.
St. Vincent's fifth (including 2012's David Byrne collab) album is self-titled for a reason. Clark has explained it's the album that sounds "most like herself". It's also her most otherworldly-sounding one yet, so that makes sense. The atmospheric conditions are set by stop/start instrumentation that is both clean and robotic, but android is actually a more accurate description. Clark takes pride at making something complicated sound effortless, and that's exactly what St. Vincent sounds like.
Confident and compelling, St. Vincent isn't a concept album as we initially believed, but it does often touch on the ideas of being too connected to machines and our willing devaluation of personal privacy via social networking. This is most obvious on "Birth in Reverse" and "Digital Witness" — "Digital witnesses/what's the point of even sleepin?/If I can't show it, you can't see me/what the point of doin anything?" (Shout out to my Facebook friends who "Check In" at grocery stores and gas stations…). There are other themes and stories present, but the songs are not really brilliant for the lyrics, although there are lots of brassy one-liners that made me laugh out loud, many of them later revealing themselves to be poignant ("I, I took you off your leash/But I can't, no I can't make you heel"). St. Vincent is scintillating for its big, bold sound and scary attention to detail — the horns, the asides, the perfectly timed beats, the background textures. But there's more than shock and awe rock (the best description I've heard of her unique guitar style yet is "wet-socket jolt" from Ryan Dombal's enthralling piece in Pitchfork — "St. Vincent: Reckless Precision"), there are decadent ballads ("I Prefer Your Love", "Severed Crossed Fingers") and pop abundance. Let's talk about the pop.
Both "Huey Newton" and "Bring Me Your Loves" are dominated by sleek hip-hop beats, which is interesting because, while they contain some entirely pop radio moments, those are then broken up by "fuck you, radio" moments. If she's to be considered a "pop star" in any measure, she's most definitely an anti-christ pop star. "Huey Newton" abruptly changes gears midway through and the clean hip-hop beats are handed over to heavily distorted guitar fuzz. This is also her first album being released by a major label (Loma Vista) as opposed to the infamous indie giant 4AD. Pop is a factor here, but if Beyonce is God (she is), then St. Vincent is Lucifer, dominating the underworld with beautiful shape-shifting, darkly angelic, delicately irreverent rock and roll.
St. Vincent has always been difficult to label, even more so with this latest fearless offering. But if there is a genre that veers closest to what her sound reflects, it's art rock in that she is true artist. Her creations transcend this sphere we humans inhabit. Rising above convention, the essence of deviation, the embodiment of the out-of-body, St. Vincent is the sound of her accepting her rightful position as our Alien Queen. Just look at the cover, at the expression on her face — she's seated on a throne, and she knows who she is.