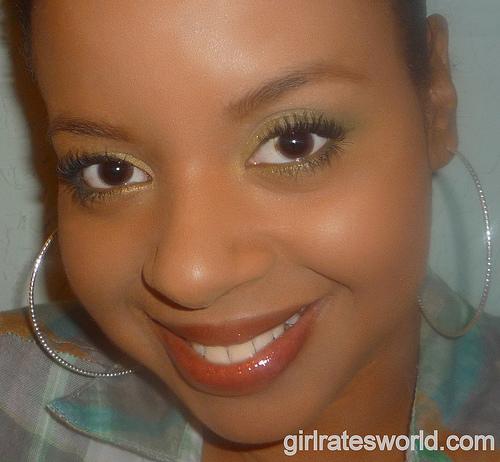 Products Used:
Mac Studio Fluid NC42
NYX Runway Palette Maybelline Falsies Mascara
Loreal Double Extend Mascara Carbon black NYX blush Nutmeg
Revlon Photo Ready -Medium Dark NYX Goddess of the Night lipgloss -Ice Princess
Here's to GREEN and St Patrick's Day! Today I'm sporting a super charmy and lucky St Patty's Day makeup look. This is an eyeshadow look but I listed all the products used at the beginning of this post. This eye look uses a single, easy-to-find palette.  Okay, let's get into it. I hope you guys like and enjoy. Don't forget to rate and subscribe.
Girl Rates World (GRW) Lucky Charms tutorial:
Apply eyeshadow base or your favorite concealer to eyelids. This will make your eye shadows more vibrant.
Using NYX Runway Palette in Secret life. Apply the lime green color (2nd row, 3rd position) to inner 1/3 of eye. Then apply a medium green color (2nd row, 1st position) to the outer 1/3 of eye. Now, apply the deepest green color (2nd row, 4th position) to the outer "V" to deepen and add depth to the look.
For the lower lash line, apply the lime green color (2nd row, 3rd position) to inner 1/3 of lash line. Then follow-up with the medium green color (2nd row, 1st position) to the outer 1/3 of lash line. Blend! Blend! Blend!
Line your upper lash line with a black liner – I used Revlon Colorstay liquid liner
Apply mascara