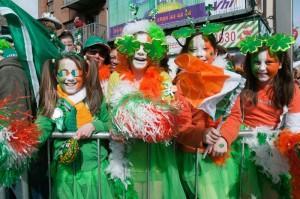 With St. Patrick's Day right around the corner, travelers from around the world will be making their way to the heart of the celebration in Ireland. While we admit that some of you might not be thinking about staying healthy during your visit, there is more to Dublin than Guinness and pubs.
That's right, there are other— notably healthier— activities that are actually a ton of fun.
If you're not convinced, check out our list of activities you'll definitely want to add to your itinerary:
Gaelic Games
What better way to learn about a country's culture and history than by taking part in some of its most traditional and beloved activities? Whether you're traveling alone or with friends, you can sign up for a chance to partake in sports such as Gaelic Football, Hurling, and Gaelic Handball. You can even learn traditional Irish Ceili dancing and how to beat an Irish Bodhran drum.
Walking or Biking Tour Around Dublin
Fortunately, there are plenty of walking and biking tours from which to choose, so do take advantage of this healthy way to view the city. Check out Dublin's famous attractions (as well as ones you may not have heard of before!) and enjoy the excitement of exploring a new place.
Airfield
Sustainable travel is a great way to learn more about local culture and give back to a city that's generously hosting you. Airfield is a farm/charitable organization that's dedicated to teaching visitors about farming, whole foods, and the history of Dublin's rural culture. Stroll through the ornate gardens or farm, learn how to milk a cow, or sit back and stop by the café for a delicious meal made with homegrown ingredients.
Etihad Skyline Croke Park
For a truly stunning—and thrilling—view of Dublin, be sure to take a tour across a walkway that's suspended 44 meters above Europe's fourth largest stadium, Croke Park. The tour includes an audio guide and access to the GAA Museum, which honors the country's national games of hurling and Gaelic football.
Dublin Food Co-Op
Part farmer's market, part social hub, Dublin Food Co-Op is the place to get local, organic, Fair Trade, and sustainable products. So stop by, purchase fresh local produce and meats, and have a delicious picnic at a nearby park or in the market itself. It's only open on Saturdays, Thursdays, and Sundays, so be sure to plan accordingly.
Photo from Issacs Hostel.