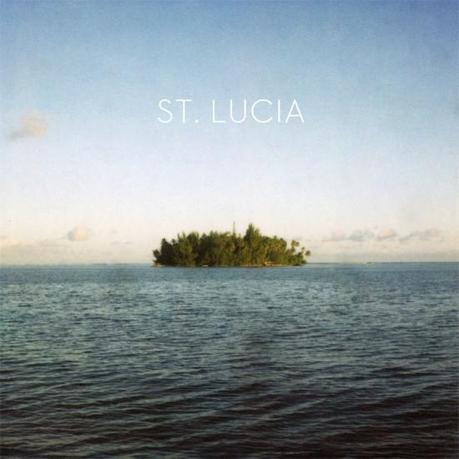 At its most basic, the debut EP from St. Lucia (@stlucianewyork) (a.k.a. Jean-Philip Grobler) equals synth pop plus African rhythms. Truthfully, it's not much more than that. That in no way, however, means that this EP isn't incredibly promising and a blast to listen to. The 1980s influence here is impossible to ignore. The 6 songs are so drenched in computerized keyboard and over-the-top production, they'd fit right in next to Peter Gabriel and Madonna on your nostalgia playlist. But don't put them there. The catchy melodies and infectious energy make these songs sound fresh and ripe for perpetually pressing the repeat button.
The EP opens with the futuristic, atmospheric swirls of "We Got It Wrong". For some reason, this track almost sounds like the title sequence for a Saturday morning cartoon that takes place in outer space (you can tell how I spent the majority of my time in the 1980s). The eventual addition of blippy synths and tribal shouts of "Don't Go Away!" set the precedent for the sounds explored on this record. The song even culminates in an unexpected saxophone section.
Next is "This Old House Is Gone", which most clearly exposes Grobler's masterful melding of synths and African percussion. The following pair of songs "All Eyes On You" and "Before The Dive" are easily the most accessible tracks — "All Eyes On You" has a rhythmic, staccato chorus and references the beginning of the EP with its own short saxophone section, while "Before The Dive" has a more melismatic approach and swaps the sax for a massive, overdriven synth breakdown. Moving on, "Paper Heart" is a drone-y, welcome cool down and "Closer Than This" has soaring, cheesy vocals that are not at all inappropriate.
This EP is good, great even, but it's more of a collection of songs rather than a cohesive project. That shouldn't turn off prospective listeners, though. The songs are good enough to stand on their own as individual works of art. St. Lucia also has the awesome claim of being the first ever artist to sign a full-album deal with previously singles-only label Neon Gold, so I'm sure an awesome LP won't be far behind.