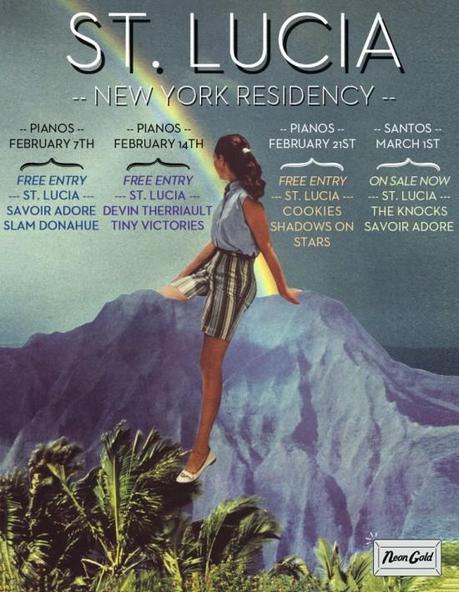 We Got It Wrong – St. Lucia // Buy
Beginning a month long residency today at Pianos and Santos Party House, St. Lucia (@stlucianewyork) is perhaps most interesting considering the history of Jean-Philip Grobler, the man behind the project's unique sound. Originally from South Africa, Grobler spent most of his youth traveling and performing with a local boys choir. Despite the classical education he received, his true musical calling arrived in the form of Radiohead's OK Computer – a far stretch from anything he had heard before and a healthy escape from the structured life he was leading. Inspired to leave home and learn more, he studied music in Liverpool before ending up in New York to write and record his first EP.
Brimming with the finest 80s pop sounds twisted with newer synth riffs, St. Lucia delivers music with unabashed optimism and incredibly upbeat rhythms. He manages to achieve this mood, however, without the abundant cheesiness of that decade — a very impressive feat. The songs, which feature a fantastic depth of instrumentation, are brought to life on stage with two additional members to create the full, wall-of-sound style found on the recordings. My recommendation: catch one of the earlier residency shows — you may need to come back for another round.
Staying busy in 2012, St. Lucia just released the "We Got It Wrong" digital single + remix EP, is gearing up for an East Coast tour that will include time spent at SXSW, and will debut a self-titled EP at the end of March. Check out the tour dates below, and be sure to grab the EP when it's released!
02/07 - New York, NY @ Pianos
02/14 - New York, NY @ Pianos
02/21 – New York, NY @ Pianos
03/01 – New York, NY @ Santos Party House
03/02 – Boston, MA @ The Middle East
03/03 – Hartford, CT @ The Mill
03/06 – Washington, DC @ U Street Music Hall
03/07 – Philadelphia, PA @ The Blockley
03/09 – Savannah, GA @ Savannah Stopover
03/11 – Atlanta, GA @ Masquerade