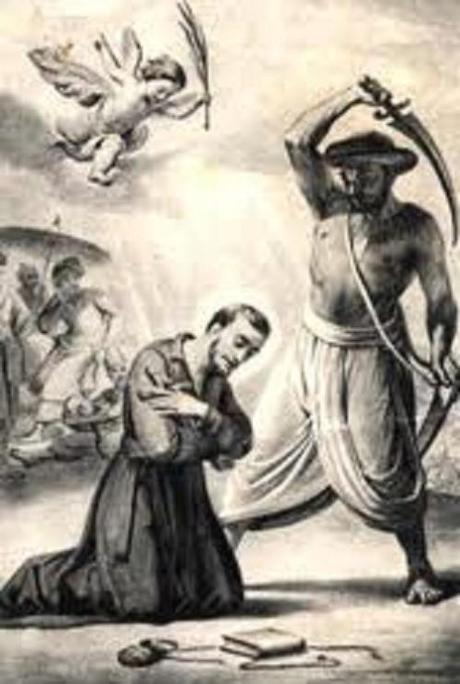 Today, February 4th, the universal Church honors St. John De Britto, a dedicated Catholic priest and martyr for the Faith.
John was born in March of 1647, of a noble family connected to the court of Lisbon in Portugal.  At a very young age he was devout and felt a calling to the priesthood.  Therefore, at the age of 15, he was received into the Society of Jesus.  John was a remarkably brilliant student and the Jesuits tried to keep him in Portugal.  Nevertheless, John had a missionary spirit and so in 1673, he and 16 of his fellow Jesuits set sail for Goa.  Most of the rest of his life was spent in southern India, where he experienced severe hardships and difficulties of all kinds evangelizing the Gospel.
John was admired by his colleagues and those he worked with, wherein they wrote how modest he was, living an austere lifestyle, and that he converted a rich harvest of individuals to Christianity.  Part of this success was John's choice to evangelize as the former missionary, Father de Nobili did, living a life like the natives, adopting their dress, abstaining from animal food and such.
John was made the superior of the Madura mission and traveled painfully on foot throughout this region which was only ten degrees north of the equator.  Father John experienced terrible health problems as a missionary, and came close to death on various occasions.
In 1686, after he preached in the Marava country, he and a handful of converted Indians were seized, and because they refused to worship the Hindu deity, Siva, were tortured for several days.  For example, they were hung up by chains from trees, and at other times, by means of a rope attached to an arm or foot and passed over a pulley, being dipped repeatedly in stagnant water and filth.
Yet, Father John recovered and then was called back to Lisbon.  The Papal Nuncio and King Pedro II wanted John to remain in Lisbon.  But Father John still knew that his calling was back in India.  He went back to Madura and served as a missionary for three years.  Eventually, Father John was arrested by order of Rajah Raghunatha for teaching things subversive of the worship of the gods of the country.  He wrote to his Father Superior whilst he was  in prison, saying:
I await death, and I await it with impatience.  It has always been the object of my prayers.  It forms today the most precious reward of my labours and my sufferings.
The next morning on February 4th, 1693, with a large crowd of people watching, St. John's head was struck from his body; he was canonized in 1947.
It never ceases to amaze me of the love of the saints for the Triune God.  St. John de Britto is another individual to whom we can look to as an example of absolute love and loyalty to Jesus, a person with an iron will and brilliant at that, and someone who absolutely understood his calling and God's will for him.  He evangelized thousands of people to Jesus, and did so with sensitivity to their Indian traditions.  Dear St. John, please intervene for us before Almighty God to help us here on earth to perform God's will, to help us to actually take time to listen to God, and then to do his will accordingly.  Much love and admiration I send to you today St. John de Britto!
Respectfully,
Joan
Source:  Butler's Lives of the Saints, Edited by Michael Walsh; Vatican website