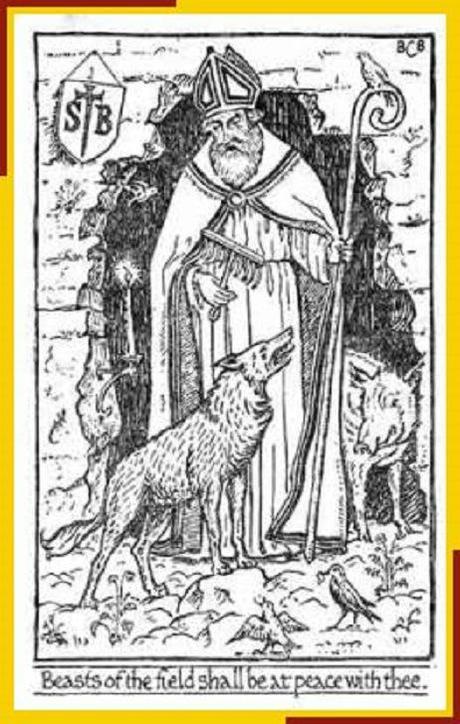 Today, February 3rd, the universal Church honors St. Blaise, a Bishop and Martyr for the Faith.
He was born of wealthy parents of high station, who gave him a Christian education.  Indeed, he was appointed Bishop of Sebastea, Armenia, at a young age.  During the persecution of Christians by Licinius at the command of Agricolaus, governor of Cappadocia and Lesser Armenia, he withdrew to a cave in the mountains which was usually frequented by wild animals.  Blaise went to this refuge because he received divine direction to do so.  Even though the Edict of Toleration was in effect in or about 311, granting freedom of worship throughout the Roman Empire which Edict was at this time five years old, the persecution of Christians continued to rage in Armenia.
He was comfortable with these animals, even healing them as it became necessary, of wounds or sickness.  In fact, the wild animals sought him out.  Hunters appointed to find wild beasts for the amphitheatre, found Blaise surrounded by them.  Amazed, they nevertheless seized him and took him to Agricolaus.  During this journey, they encountered a poor woman whose pig was carried off by a wolf.  St. Blaise commanded the wolf to return the pig unhurt, and the wolf obeyed his order.
And on another occasion, a woman brought Blaise a boy who was dying because he had a fishbone caught in his throat.  At once, Blaise healed him.  Because Our Lord gave Blaise such incredible healing powers, he has been invoked for many centuries including up to and including the present time, for all types of throat sicknesses.
Having reached Cappadocia, Governor Agricolaus ordered that Blaise would be scourged and denied food if he refused to sacrifice to pagan idols; but Blaise refused and hence, was beaten and thrown in a dungeon.  However, the woman whose pig Blaise helped, brought him food and other provisions, including tapers, so that he would not experience darkness whilst in prison.  Thereafter, the second time Blaise refused, he was suspended from a tree and his flesh torn with iron combs or rakes.  (English wool combers who used similar tools, took Blaise for their patron.)  Finally, still refusing to worship pagan idols, he was beheaded in or about 316 A.D.
St. Blaise is the patron saint of woolcombers, of wild animals and all people who suffer from afflictions of the throat.  It has been the custom in Catholic Churches for a blessing to be given on his Feast Day, and blessings given to people at other times as needed.  Two candles are used in the blessing, representing the tapers brought to him by the kind woman whilst he was imprisoned.  They are then blessed and held like St. Andrew's cross against the throat or over the head of the person.  I have had my throat regularly blessed on his feast day.  The blessing is as follows:
Through the intercession of St. Blaise, bishop and martyr, may God deliver you from ailments of the throat and from every other evil.  In the name of the Father, and of the Son and of the Holy Spirit.
St. Blaise was a remarkable person, who understood the wild animals and I believe the wild animals sensed his goodness and love.  He went about using his gift of healing for the benefit of God's creatures and humankind.  I am aghast at how he died, tortured terribly and relentlessly.  Can you imagine the agony he went through?  We ask your intercission dear St. Blaise, to help us to be kind and considerate of God's creatures like you were, to heal where there is injury and above all, to have the courage to die for Our Lord Jesus Christ by dying to ourselves and rising to new spiritual life in Him.
With love and respect,
Joan
Sources:  One Hundred Saints, Bulfinch Press; Vatican website