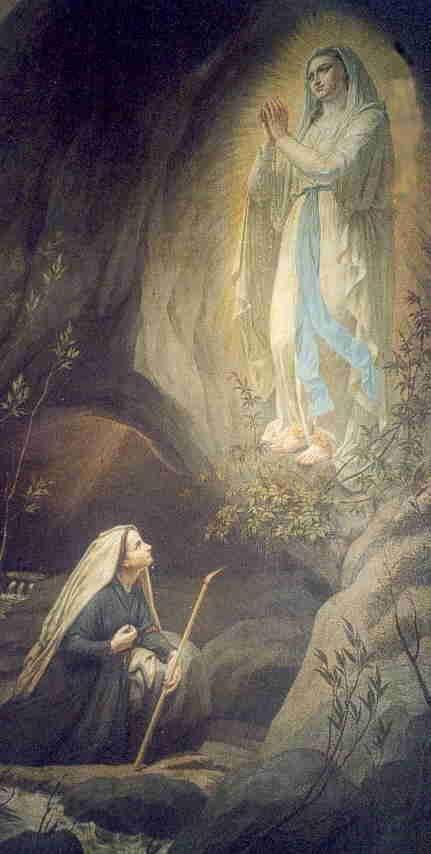 Today, April 16th, the universal Church celebrates a most important saint, Bernadette Soubirous, the beautiful young lady whom Our Blessed Mother appeared to, which ultimately is the famous Shrine of Our Lady of Lourdes.
Bernadette was born in Lourdes, a town in Southern France, to a miller and homemaker, Her family lived in a run-down basement in an old building, experiencing great poverty. Bernadette suffered throughout her life from respiratory problems, from asthma. She was holy and virtuous and was a very bright lady, even though she found it difficult to be a student.
On one blessed day, February 11, 1858, the Blessed Mother of Our Lord Jesus Christ appeared to her in a cave above the banks of the Gave River near Lourdes. Our Lady visited Bernadette on 18 occasions, with the final appearance occurring on July 16th. Bernadette said that the lady was 16 or 17 years of age, who wore a white robe with a blue sash, with yellow roses covering her feet, and a large rosary hung on her right arm. In the March 25th vision, she told Bernadette, "I am the Immaculate Conception." Bernadette indicated that the "Lady" instructed her to have a chapel built on the spot, and that the people were to come and wash in and drink of the water of the spring that had welled up from the very spot where Bernadette was instructed to dig.
These visions underwent tremendous and thorough investigations and scrutiny, not only by the Catholic Church, but by doctors and scientists and other secular individuals. The Catholic Church confirmed the authenticity of the apparitions in 1862, further setting forth that this event was worthy of faith. Indeed and in fact, Lourdes is one of the most popular Marian shrines in our world, with millions of individuals visiting this holy place. Miracles were reported at the shrine and in the waters of the spring, and approximately 64 of these miracles have been carefully and completely reviewed by doctors and scientists, confirming that there was no scientific or medical explanation for the cures. Nevertheless, there have been numerous cures attributed to the shrine but not investigated, physical and spiritual cures.
Bernadette continued to suffer from her respiratory health problems, and ultimately, she journeyed from Lourdes to Nevers and entered the novitiate of the Sisters of Notre Dame. Sadly, within four months of her arrival at the convent, she received the last rites of the Church and she was allowed to profess her final vows. However, she recovered to a point, that allowed her to serve as infirmarian and sacristan. Yet, her chronic health issues continued, and she died on April 16, 1879, 35 years of age.
Mother Josephine Forrestier began Bernadette's cause for canonization. As part of this process, Bernadette's coffin was opened after 30 years in the grave. Bernadette's rosary rusted, her habit was frayed, but Bernadette was perfectly and most astoundingly, incorrupt. It looked like she had been sleeping.
On December 8, 1933, the Feast of the Immaculate Conception, Pope Pius X declared Bernadette Soubirous a Saint of the Catholic Church. Her actual feast day is February 18th, the day the Blessed Mother promised to make her happy, not in this life, but in the next. Yet, the Faithful have given her two more feast days – April 16th, the date of her death, and February 11th, the first time Our Lady appeared to her.
I have always loved St. Bernadette from my childhood up through the present day. Our Lady chose to appear to her so that people would come to love her Son, Jesus, and offering people cures of their health problems and other problems as well, through the power of Our Lord. Bernadette went through hell and back with the intense investigation and inquiries, and she answered truthfully and boldly, keeping in mind that she was sickly and fragile. I hope they are having a big party in heaven today for this most beautiful young lady, St. Bernadette. We love you and honor you today! Please pray for us, Bernadette, and help us to fight the terrible evils in the world. We thank God for you most lovely Bernadette! May we all follow your example of persistence in the Truth and your love of Our Lord Jesus Christ and His Blessed Mother.
Respectfully,
Joan
Sources: Franciscan Media; EWTN; Vatican website
See also "Our Lady of Lourdes," Feb. 11, 2014.