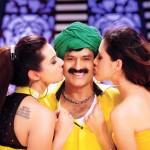 Story
Our hero Srimannarayana is a daring and dashing journalist who specializes in using all kind of modern techniques and is a one man army machine who knows every kind of fight form. He knows how to use Google maps, advanced kung fu while fighting, he has a vast knowledge and expertise in any conceivable field possible. Such a hero is faced with a problem of finding five passwords and how he finds them is the story of the film.
Performances
Nandamuri Balakrishna plays a super suave cool, handsome, manly, devoted, doting and caring, fun loving, angry and mostly an intelligent character. Well those are the various shades his character exhibits in the film. He performs all those shades with a singular ease and in a manner that is only exclusive to him. His 'trying too hard to be cool' act is very well exploited by the director here.
Isha Chawla plays a village bimbo with aplomb where as Parvati Melton nails it with her "I am too smart, intelligent and independent to be a bimbo but yet a bimbo" act.
Kota Srinivas Rao, Rao Ramesh, Supreet, Nagineedu, Jayaprakash Reddy and Suresh play the villains in the films. Kota Srinivas Rao for a change plays a Tamil speaking person in the film and it's well done. Nagineedu and Rao Ramesh have very brief roles and they don't add much to the proceedings apart from providing passwords to our hero.
Supreet once again plays the 'how boiled dumb villain who trying to become intelligent in the end" kind of villain only to get followed by the hero.
Suresh gets the main villain role in the film. He gets to plan everything including his death at the hands of hero. He is that smart.
There are comedians as our hero is used for the comedy along with the two bimbos.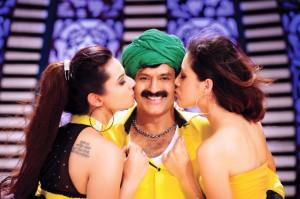 Positives

Bala Krishna
 The core story idea is good
Pre interval where villains act intelligently
Negatives

Typical mannerisms of Balakrishna used for comedy. They do make us laugh but it's unintentional.
Songs and its placement
Costumes in the songs
Analysis

The plot of the film is good which could have been made into an intelligent thriller had the intention been such. But instead what we get is a kitsch and juvenile intellect thrown at us. Even such childishness would have been fine had the director let that dominate the proceedings but he doesn't do that and mixes the kitsch among all these. All the scenes that are not part of the basic storyline and used to bring comedy and family sentiment into the film feel outdated and artificial. In fact all these make one squirm in one's seats when watching the film.
The film starts interestingly but looses the plot and interest as soon as the family element is involved. Later it picks up during the pre interval sequences and ends up on a satisfying note.The second half continues from where it left at the intermission but as things go forward things get more juvenile and childish. With each extraction of password the hilarity of the whole exercise only keeps on getting increased. All this ultimately ends in a climax that's as predictable as one gets to see only here the characters believe that they have acted too intelligently.
However technically the film is very good. Cinematography is very good. Action sequences although slightly over exaggerated at points are still fairly good to view.Direction by Ravi Chavali is the problem here. And it is the same problem that one witnessed in his last film too. He tries to make an intelligent thriller with completely dumb characters. Well that is something that is never going to happen and the dumb characters turn the thriller into a comedy, unintentionally.
But the songs and background score by Chakri are a major letdown. While generally one copies songs from various different sources here instead of songs background scores are lifted.
Bottom line: This password thriller fails to crack the password of a thriller.
Rating: 2.5/5


Rating: 4.4/
5
(12 votes cast)