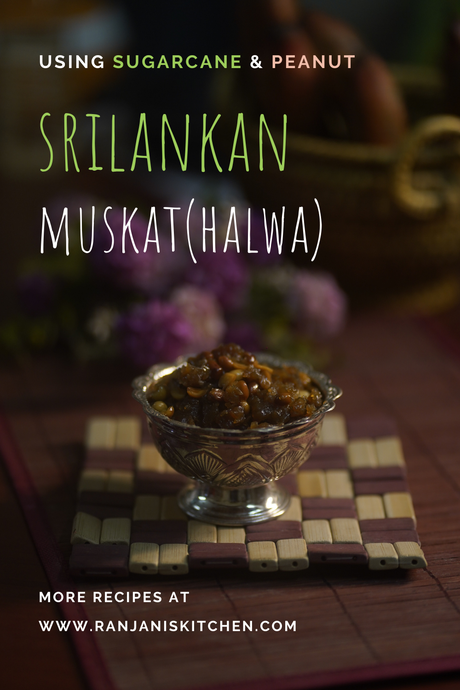 srilankan muskat(halwa) recipe - I made muscoth halwa with a twist of using sugarcane and peanuts.in India we used to make many types of halwa recipes. This srilankan recipe also with that same method. If you are vegan, you can replace ghee with coconut oil.
In original recipe, I have seen they are using coconut oil to make this sugarcane halwa. You can use both green and purple variety of sugarcane. I used purple one. It's a recipe I made during Pongal. I don't get time to edit and post. Sorry for the delay.
Sugarcane and peanut is loaded with many nutritional benefits. So I added lots and lots of peanuts in this halwa recipe. I love in that way which we get crunchiness while eating. You can also add any nuts and dry fruits in this karumbu halwa.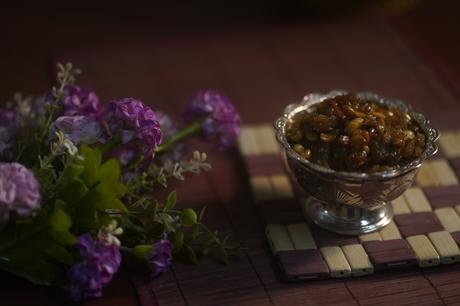 What is the difference between muscat halwa and this sugarcane halwa?
Both sweets are similar in making. In place of mixing water I tried adding sugarcane juice. It tastes really yummy. And I added lots of roasted peanuts to make the halwa more crunchy.
Serving and storage suggestions:
Serve the halwa as hot. If you have excess amount to store. Store in refrigerator for maximum one day. Heat it by adding a tsp of ghee or coconut oil before serving. Do not keep it more than a day.
Video for quick and easy halwa recipe:
Some of the Indian sweets you might check
More halwa recipes
How to make srilankan muskat(halwa) recipe:
Peel off the outer thick skin of sugarcane and chop into small pieces.
Blend it in a mixer, strain and extract the juice.
In a mixing bowl, add ½ cup of corn flour and add 1 cup of sugarcane juice.
Mix gradually to remove lumps if any and keep aside.
Heat a strong bottomed wok, add 3 tbsp of ghee and ½ cup of peanuts.
Roast in low flame , drain the excess ghee and keep it in separate plate.
In the same wok with ghee, add corn flour sugarcane mixture. Stir continuously keeping the flame medium low to avoid sticking at the bottom.
You can see the corn flour mixture starts thickening.
Now add ¾ cup of jaggery in two batches and mix to get the jaggery dissolve well.
Add ½ tsp of cardamom powder, roasted peanuts and some more ghee. Mix well and stir constantly.
You can observe the muskat recipe starts leaving ghee on sides and becomes rolling non sticky consistency.
Switch off the flame now and serve.
(Visited 3 times, 3 visits today)