My  book on  
Understanding Different Environmental and Geological Issues From Past to Present.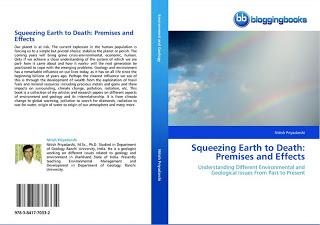 Product Details
Paperback: 280 pages
Publisher: Bloggingbooks (April 20, 2012)
Language: English
ISBN-10: 3841770339
ISBN-13: 978-3841770332
Product Dimensions: 8.7 x 5.9 x 0.6 inches

Price:$64.00


Book Description

Publication Date: 

April 20, 2012

Our planet is at risk. The current explosion in the human population is forcing us to a simple but pivotal choice: stabilize the planet or perish. The coming years will bring grave crisis-environmental, economic, human. Only if we achieve a close understanding of the system of which we are part- how it came about and how it works- will the next generation be positioned to cope with the emerging problems. Geology and environment has a remarkable influence on our lives today, as it has on all life since the beginning billions of years ago. Perhaps the clearest influence we see of this is through the development of wealth from the exploitation of fossil fuels and mineral resources including precious metals and gems and there impacts on surrounding, climate change, pollution, radiation, etc. This book is a collection of my articles and research papers on different aspects of environment and geology and its interrelationship. It is from climate change to global warming, pollution to search for diamonds, radiation to war for water, origin of water to origin of our atmosphere and many more.




Researching and writing a book that covers and connects ideas in such a wide variety of disciplines is a challenging and exciting task. Almost everyday I learn about some new connection in nature. I hope you have as much fun learning about such connections and their implications as I have over the past 20 years. My goal is to provide you with an interesting, balanced, and challenging book that furthers your understanding of this vital subject. I have also attempted to provide balance on presenting various sides of key environmental and geological issues.