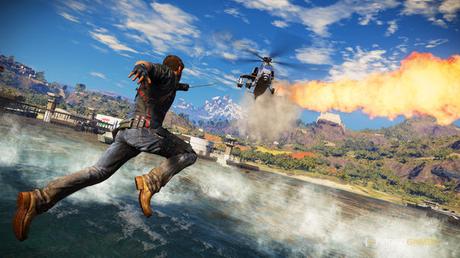 Square Enix is taking its biggest ever line-up of games over to Gamescom 2015, the publisher has announced, with Just Cause 3 set to be playable for the first time at next month's event.
Avalanche's action-packed sandbox will be joined on the show floor by playable demos of Dragon Quest Heroes: The World Tree's Woe and the Blight Below and the upcoming PC version of Final Fantasy Type-0 HD, alongside hands-on builds of earlier releases Life is Strange, Final Fantasy XV: Episode Duscae 2.0 and Final Fantasy XIV: Heavensward.
Hitman and Deus Ex: Mankind Divided won't be playable at the show, however, with Square Enix instead planning to host hands-off demonstrations at its on-site cinema.
The main stage, meanwhile, is being reserved for Final Fantasy XV, where Square plans to have "a number of exciting stage presentations with many well-known guests" that offer "new insights" into the game.
And there may even be a few surprises in store, too, with Square teasing that info on "more new announcements and reveals at Gamescom 2015 will be released in the coming weeks".
"At this year's E3 we presented one of our biggest line-ups in years including several new game reveals. At Gamescom 2015 we will set another mark with the biggest show in our history," said Square Enix Americas and Europe CEO Phil Rogers. "We are very happy to present our sensational portfolio of titles not only to industry representatives but also to gamers from all over the world. Whether it is FINAL FANTASY or DRAGON QUEST, DEUS EX, HITMAN or JUST CAUSE – Square Enix presents its biggest franchises large-scale.
Gamescom gets underway on Wednesday, August 5 with the doors opening to the public the following day on Thursday, August 6.