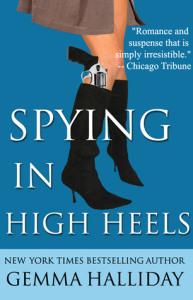 Maddie is a children's shoe designer living a peaceful life in LA. Her job is relaxed, her boyfriend is perfect, and life is just chill.
Until the day she wakes up and realizes she is late. Not just late, but late late…as in her period is late.
To add to her woes, her boyfriend disappears that very same day, and 20 million dollars have also gone missing. Add a couple of murders and a hot detective, and you have all sorts of hi-jinks going on.
My Review:
I had guessed earlier that this book might be perfect for fans of Janet Evanovich's Stephanie Plum series. And I was right. Readers who enjoy Stephanie Plum novels will enjoy this book (which is the first of a series btw) very much.
The heroine Maddie Springer is closely modelled on Ella Woods from the movie Legally Blonde – she is the epitome of the dumb blonde who wins the day in the end. In this book, Maddie has to solve the case to free her boyfriend who is the primary suspect in the murders.
I enjoyed the character of Maddie and I liked her gumption and perseverance. She makes an endearing heroine. However, I must say I found this book a little on the flimsy side. The book is just over 250 pages, but the plot is stretched thin and I found it a bit of a slog to complete.
Some of the author's writing tics also drove me bat-shit crazy. She has the tendency to use the exact same phrases over and over in the course of the book. For example, Maddie doesn't just drive to any place, she points her jeep at X location. This same sentence construct is used every time she goes anywhere. A little elegant variation would have been nice.
Another aspect that didn't quite work well with me was the use of fashion in this book. It was just a bunch of big brand name throwing…Gucci, Prada, and so on.
I prefer the fashion to be woven into the plot more closely. For example, when I read Confessions of a Shopaholic, there were a couple of nice moments where a Denny and George scarf is integral to the plot. Here, the fashion stood out like a sore thumb in a I wore my Gucci shoes to the date kind of way which got tired after a point.
Apart from the above nit-picks, the book is not bad. If you are looking for some light reading/chick-lit, you might like this one.
Thanks to Jaico Publishing for sending me a copy of this book in exchange for an honest review.