It was an offer I couldn't refuse – a chance to learn more about the humble spud.  In fact, I wouldn't be where I was today if it weren't for the potato. In Ireland in 1845 late blight fungus devastated the crop which had formed a major part of the Irish diet.  During the next half decade a million people died of starvation and a further million emigrated. Several of my forebears were part of this Irish Diaspora, traveling to the other side of the world seeking a better life for their families.
While I am enthusiastic tatie consumer, as a Kiwi, I am still learning about the characteristics of the various potatoes grown in Australia.  I was invited to attend a potato cooking class at the LG Kitchen at South Melbourne Market, conducted by Emma Mackay, a chef and industry trainer. Time to be a student again.
On hand was Georgie from Georgie's Harvest on the Coventry Street side of the market where she sells upwards of 20 potato varieties as well as pumpkins, onions, herbs, chillies, garlic and olive oil.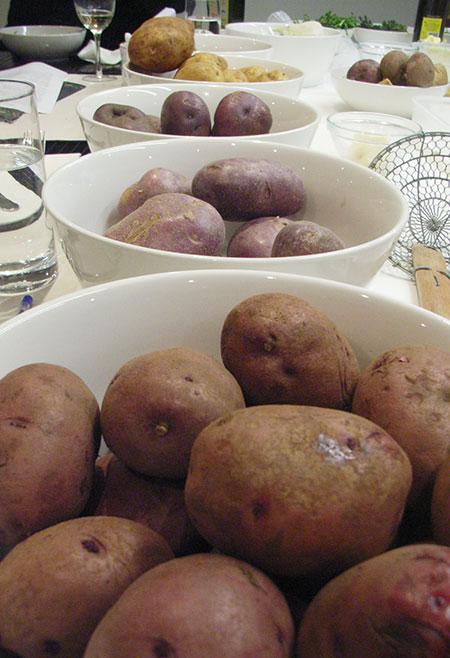 Meet the spud – Vikings, Royal Blue, Blue Zhar, Nicola and Dutch Cream
She introduced us to a number of currently available potatoes. The reddish purple Vikings from Tasmania were earmarked for a gnocchi dish. Then there were Royal Blues from Victoria, best known for their chipping qualities.  Next were the Blue Zhars which Georgie said were the best mashers. Hers came from a small boutique farmer in Tasmania. They were also to be used in our gnocchi dish.
The Nicola spud is the one to buy if you're not sure what to cook, she says, It's generally brushed and has a low GI.  Next was the Dutch Cream. In the dark underworld of potatodom, it can also be sold as a Nicola. It's generally presented dirty.
Georgie said Nicola and Dutch Cream were similar texturally but the latter was sweeter and yellower. The No 1 seller, it is good for mashing.
"If I could sell only one potato, it would be the Dutch Cream."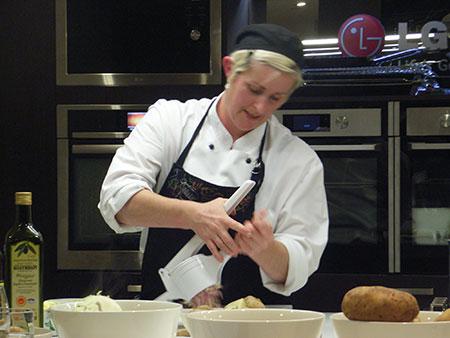 Emma shows how to use the potato ricer
It was time to roll up our sleeves and make some gnocchi.  Emma had boiled some Blue Zhar and Vikings and these were passed to us to peel and then mash with our weapons of choice – a potato ricer, a masher or a fork. We mixed in  some flour and salt to make a firm smooth dough which we rolled into long tubes and cut into little pillows. Next time I might tackle the Nonna skill of marking the gnocchi with fork tines, though Emma said the pillows were good enough for her.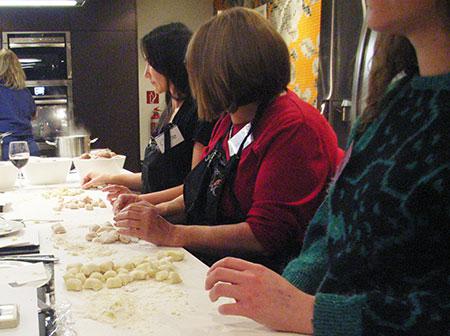 Working on our gnocchi like true professionals
She cooked them in boiling salted water till they floated to the top.  They went onto an oiled tray to wait while she made a very simple Napoli sauce from bottled tomato sugo, garlic sweated in oil, salt and pepper and a spoon of brown sugar to temper the acidity of the sugo.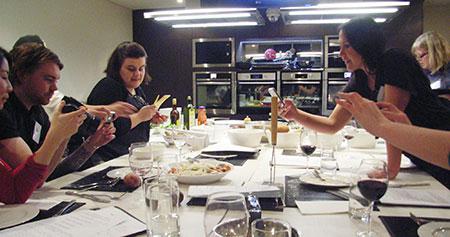 Georgie shaves the parmesan for our beautiful gnocchi dish while the cameras record our masterpiece.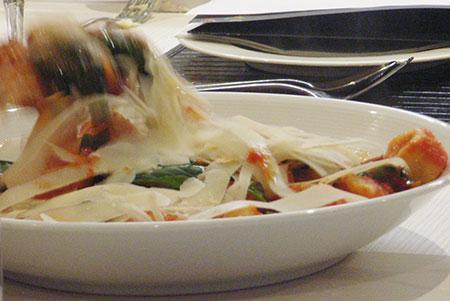 Dishing up the gnocchi. Clearly we were all parmesan fans, big time.
Our gnocchi were light and perfect with the sauce, fresh basil and parmesan.  Not bad for a first effort for most of us.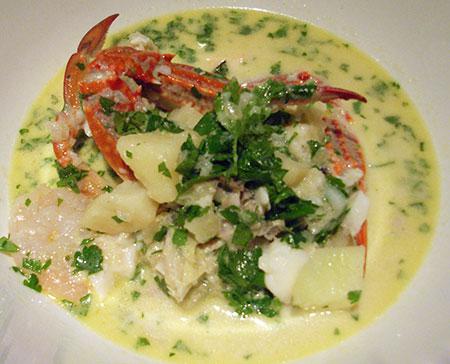 A delicate chowder packed with beautiful fresh seafood
Pink Eye potatoes with their creamy flesh and pink blotched skins were the choice for a striking seafood chowder packed with mussels, prawns, crab, clams and blue grenadier.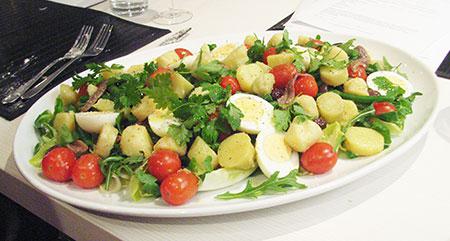 Nicoise salad, beautifully executed by Emma
Pink Fir potatoes – long cylindrical ones not unlike kipfler – starred in Emma's classic Nicoise salad with its blanched green beans, cherry tomatoes, anchovies, olives, hard-boiled eggs and a white balsamic and olive oil dressing served with some simple canned tuna and Dutch Cream crispy pommes noisette.
The demonstration finished off with a moussaka which included thinly sliced Nicola potatoes.
Thank goodness there was no dessert. I think most of us waddled out of the market kitchen, each clutching a jar of exceptional garlicky Blue Zhar skordalia dip and bag of Georgie's potatoes, garlic  and olive oil so we could make our own.
I've been an occasional customer at Georgie's Harvest but that will change. She'll be answering a lot more of my questions in the future in my quest to be more potato savvy.