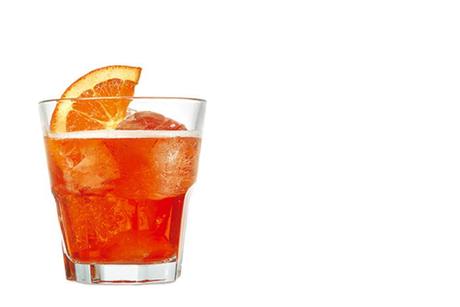 The origins of this drink are not known but it is widely believed that the Spritz was born during the 19th century in the Italian Venetian region. The name, may derive from the German verb "to spray".
With time the Aperitivo ritual of northern Italy spread to the rest of the country, and with it the variants of the original Spritz. In the last decade the Aperol Spritz with Prosecco has become the most popular one.
Ingredients:
3 parts Prosecco wine,
2 parts Aperol,
1 splash of club soda or seltz,
1 orange,
Ice cubes.
Preparation:
Fill the rock glass with three or four ice cubes and half a slice of orange. Pour the chilled Prosecco wine and add a splash of soda or seltz. With a circular movement top the drink with Aperol making sure to follow this order to avoid that the Aperol settles to the bottom of the glass.
Garnish: Half a slice of orange.
Type: Refreshing, sparkling and light.
Glass: Rock.
Difficulty: Easy.