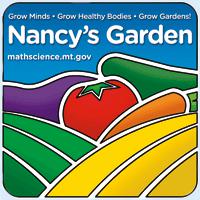 It's springtime across the country ... and that means plenty of travel for me to give presentations at dietetic, school nutrition, and other professional meetings. You can download PDFs of my
Recent Presentations
on my website ... and read about
School Meals That Rock
in the states that I have visited on Facebook. Here, I am going to spend April honoring
Earth Day 2011
by focusing on growing gardens and enjoying produce, starting with a wonderful new initiative by Montana's First Lady.
~~~~~~~~~~~~~~~~~~~~~~~~~~~~~~~~~~~~~
As a botanist, Montana's First Lady Nancy Schweitzer is a strong supporter of math and science education in Montana schools. Together, the Governor and First Lady launched a Math and Science Initiative to help Montana youth discover math and science in K-12 classrooms and higher education, find out about career opportunities, and explore Montana's splendid surroundings. The Initiative's newest feature, Nancy's Garden, brings fresh vegetables and healthy eating to the classroom.
"Nancy's Garden is a new opportunity that can help create the next generation of gardeners, scientists, and engineers in Montana," says the First Lady. "The Governor and I hope teachers find this a helpful, hands-on resource to nurture gardening, promote healthy eating, and explore math and science."
Nancy's Garden provides an exciting gardening experience for Montana 4th grade students by supplying grow boxes, seeds, lesson plans, instructions, and other materials for their classrooms. The teacher's guide was designed with the help of gardening and nutrition experts from the Montana Department of Agriculture, Montana State University Extension, and Montana Team Nutrition. The lesson plans take students through planting, growing, and finally eating produce from Nancy's Garden. With tips from the Governor's Office of Community Service, teachers are encouraged to connect their classroom garden to the community with volunteers and service learning activities.
"Montana's 4th grade students are in for a wonderful growing experience this spring," says the First Lady. "I encourage families across Big Sky country to join in the fun and grow gardens at home too. It is such a natural, hands-on way to get students excited about math and science and engaged in healthy eating!"