A little bit ago, Lesley approached me to ask whether I'd be interested in participating in a meet-up for local Springfield Missouri bloggers - and I immediately said "yes!" and set to work on designing a blog for the event. There are blogger meet-ups in our area sometimes, but I've never actually gone to one because I didn't know how much I would have in common with the other bloggers (usually ranging from businessmen to professors). Helping these bloggers set up a meet-up for ladies who actually read each others blogs and have so many things in common is really exciting to me!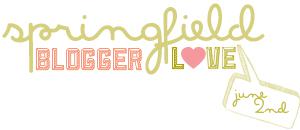 If you're a blogger in the Springfield area and would be interested in meeting with a group of wonderful blogging women on June 2nd, check out our Springfield Blogger Love page for more info and to link up your blog! And please feel free to share one of our buttons on your own blog as well, so we can get as many talented ladies in on this as possible.
We hope we'll see you there!