I don't know anyone who doesn't look forward to Spring. It's a fickle season though as it seldom decides when it's actually going to become that milder time that we've all anticipated. So one day it becomes warmer as the day progresses and the next there can be snow in the air ! We are subjected to frost at nights, yet by midday we can cast off a layer!
The untidiness of our winter gardens annoys us and so we venture out to cut grass, turnover vegetable plots and buy bedding plants. The result? Backache! Yet eventually the daffodils bloom and the tulips poke their pointed heads through the soil. We feel reassured.
Driving into the countryside , suddenly there are lambs in wee plastic jackets cuddling up to their mothers for warmth as the wind is from the east and is biting cold. Stopping awhile we watch the more robust lambs chasing each other across the fields. Once again we feel reassured.
Hedgerows and trees are bursting with that bright new green that heralds the season and blossom erupts on the magnolias. A few days later and the cherry blossom makes an entrance and the hawthorn too. We notice the arrival of migratory birds and note the date. Other birds may have started nesting and are flying to and fro from nests collecting emerging insects to feed their young. Yes! By now we are definitely reassured. Spring has finally sprung!
This week my good friend and dancing partner celebrated his 91st birthday and since it was such a pleasant day we took advantage of it and had a drive into the countryside. He kept exclaiming about the blossom and the lambs and the various shades of green. Eventually we found ourselves at Leighton Moss where we had lunch looking out at a bird feeder. With a little bit of added imagination I wrote a few lines......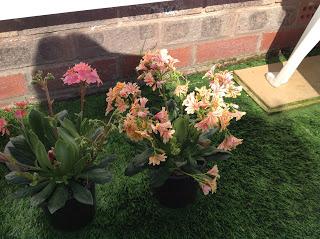 Spring at Leighton Moss
Sat here at a table for two, With a busy bird table in view. Visited by chaffinch, bullfinch, greenfinch and all, To eat the seeds and occasionally brawl !
They sit in the nearby hawthorn bush, Watching and waiting and in they rush, To quickly gorge on seeds then fly To nests with young nearby.   Across the fields the lambs do play, Enjoying the the sunshine this fine day- Whilst we enjoy a Springtime treat Of coffee, tea and nice cakes to eat.
'Tis his birthday too this nice Spring day, We wish him luck and good health we pray. So we sit at a table for two, Watching the birds and enjoying the view.
Thanks for reading, Kath.  
Email This
BlogThis!
Share to Twitter
Share to Facebook
Reactions: