Spring #nailart! OPI's A Grape Fit is a classic purple polish that can be appreciated year round. Add some polka dotted accents. Add some rhinestones. It's truly a "grape fit."
Nail polishes used: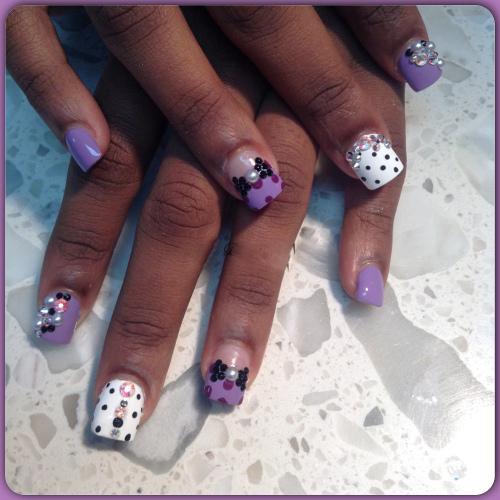 Nail Artist: Truly Beautiful Nailz
OPI Grape Fit is a part of OPI Classics Collection. It's a subtle purple shade that flatters all skin tones.
A good white polish can be found just about anywhere these days. Not like, black nail polish – It's much harder to find good quality black polishes. Check out My Boyfriend Scales Walls from OPI Spiderman collection. I mentioned it in this year's San Francisco 49ers nail polish picks.
Like this nail art? Show your love by sharing with friends and family on Twitter and Facebook. You can also leave a comment below.
Truly Beautiful Nailz is an expert nail artist and a regular contributor on GirlRatesWorld.com. Be sure to check out her nail art designs here and via twitter @TrulyBeautifull.