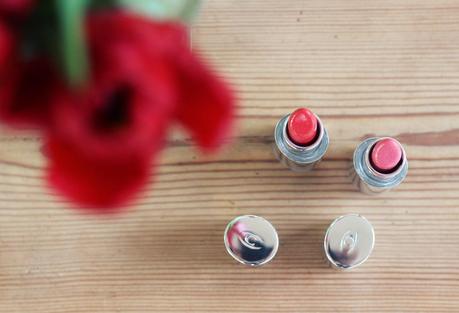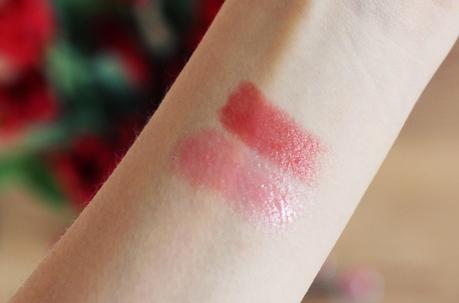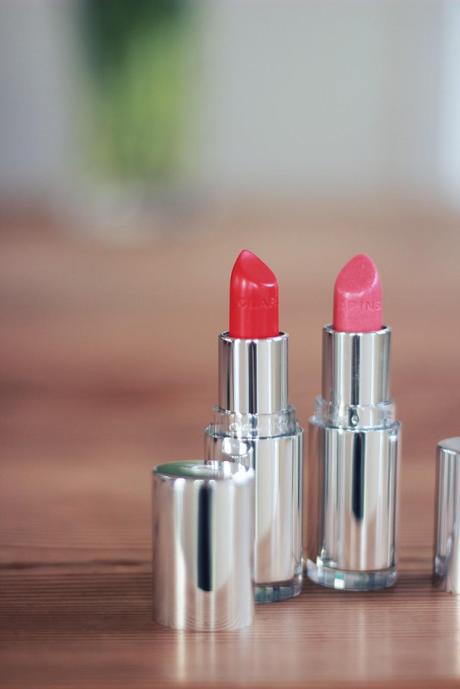 Sheer lipsticks and bold colours aren't something that usually work together in my opinion, but the exception to the rule has definitely been made with these new Jolie Rouge Lipsticks from the Clarins Spring Collection. A forgiving and moisturising formula that creates gorgeous plump looking lips, now that's something that I can get on board with. 
It's the shine that does it - don't be scared by the shimmer, it's not going to give you 80s inspired frosted lips - but instead helps reflect the light for a sophisticated gleam that's plumping and perfecting, and lot more long-lasting and easy than a gloss. For me, they tend to last around four hours but leave behind a pretty and even stain on the lips that means topping up isn't a problem. 
I tried out the two new additions to the shade range, and although quite different in colour, I find that they have a pretty similar effect on the overall look of my makeup. Rose Petal is the cooler toned of the two, and more subtle on the lips. It feels balmy, moisturising and perfect for everyday wear. Coral Dahlia is a more coral orange colour, and surprisingly for me, my favorite out of the two. It works with every makeup look and is such a gorgeous spring colour, perfect for injecting a pop into your look without having to make any effort. 
Both are great brightening colours and perfect for making your teeth seem that little bit whiter - plus, with the classic Clarins fruity scent they are a pleasure to wear. At £19 they don't come in super cheap, but it definitely isn't bad for a high-end lipstick, and for me are worth every penny. 
What do you think of these? Will you be treating yourself to one or two?