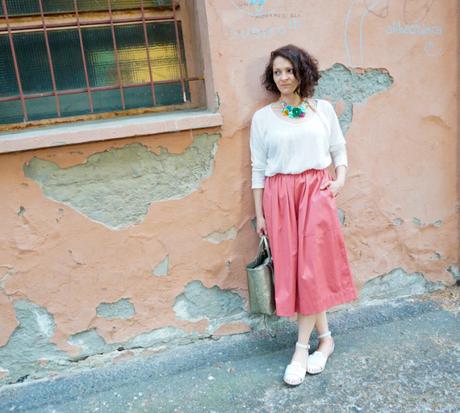 This year we are experiencing a long, real Spring in Italy. Some days are chillier than others and some days are down right hot. I have to remind myself that the 21st of June is when summer officially begins and until then I should be grateful for this real Spring weather, complete with a few showers and temperatures that are not quite warm enough for shorts and a tank top. When the REAL summer hits, I will be melting and longing for the days when I can stand the feeling of clothes against my body.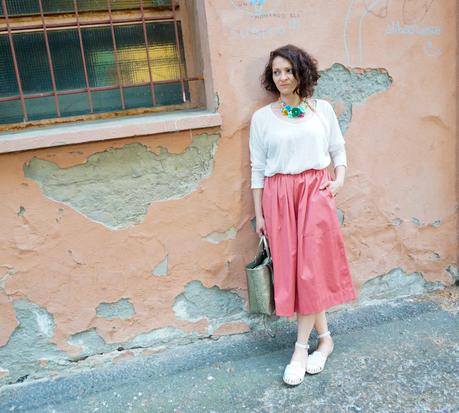 This Sunday started off with a bike ride, a stroll through the centre and a visit to the children's teddy bear hospital. Then we headed for an afternoon birthday party in one of the most beautiful daycares in the city,which is also an afternoon playspace for all parents and kids.
Kid's birthday parties are a serious affair for young parents who are still in the early years of creating new friendships with other parents, replacing their late night cocktails with Sunday afternoon BBQs.
It is no wonder that some of the most popular posts on my blog are What to Wear to a Toddler Birthday Party, where I featured Raffaella and her wonderful tunic and What to Wear to a Kid's Birthday Party , feel free to check them out if you need some kid birthday party outfit inspiration!
What I Wore - Inspired by Pantone's Spring 2015 Colors
I've been longing for a more feminine look, a little green, a little teal and a little peach mixed in with lots of fabric and light materials. I put this look together and I think subliminally I was inspired by Pantone's Spring Color Mix for 2015!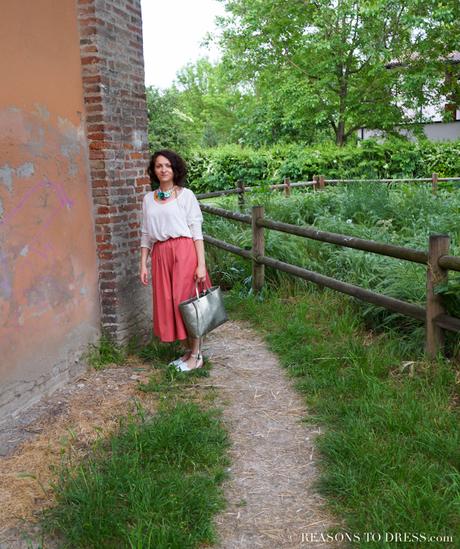 I've been holding on to all of these different elements for a while because it has been too chilly to wear them, but now, finally, their time has come! I bought this full skirt in a Strawberry-Peach color on sale from Zara in January!! That means it has been sitting in my closet for four months waiting to be worn!
These shoes were bought online here for under 25 euro in real leather with laser cut detailing way back in October. They reminded me of the shoes in the Chanel Spring 2015 collection that were all over the internet after the catwalk last year. I have a whole board on Pinterest dedicated to Spring 2015 Shoe Trends if you feel like taking a look! You can still find these on Asos.com along with approximately a hundred different but similar styles in real leather!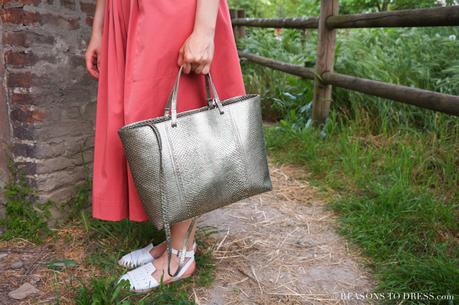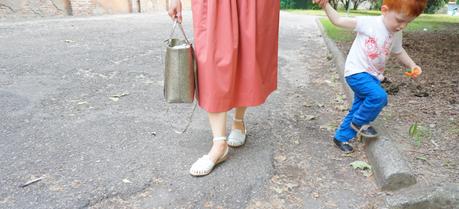 My husband is an exotic leather artisan , and together with his parents he has a company that manufactures luxury alligator, lizard and python items for designer brands. They are called TES - which stands for Tradizioni ed Elementi di Stile, Traditions and Elements of Style and I will be profiling them later this summer and also sharing a project I've been slowly working on that I'm really proud of! My husband gave me this bag as a gift..... it was a "reject" from one of the sample collections that still needed to be perfected and modified. I think he noticed me drooling over it every time I went into the "lab" and finally brought it home for me! I love it! It is in real python leather and is big enough to carry all of my things, plus I think it looks pretty great with this light cotton top that I found for a euro at the Market! I've written before about Italy's markets and the types of things you can find if you are willing to hunt!
My necklace is by the new online store YOSA UK run by one of my favorite fashion bloggers Rachel the Hat. I wanted to buy something from her store to support her because he is a blogger, mom and entrepreneur with great style, but I didn't expect to find so many great original pieces. I get compliments on my necklace all the time, which I've styled before with black velvet and lace as part of a D&G inspired winter look. Now all I need is to plan a nice long trip to Sicily because it would go so well with all of those beautiful hand painted porcelain flower vases.

Now onto YOUR style...
#REASONSTODRESS Real Mom Street Style Linkup
Fab Five from Last Week's Linkup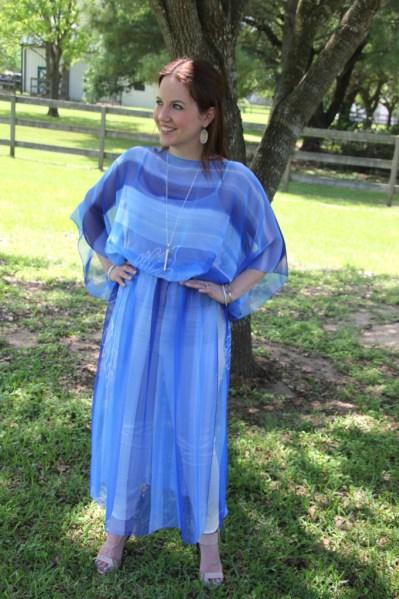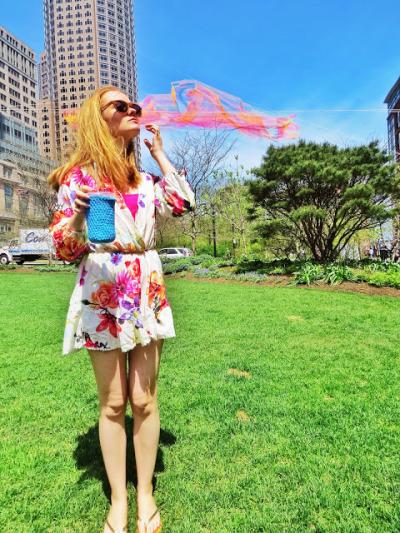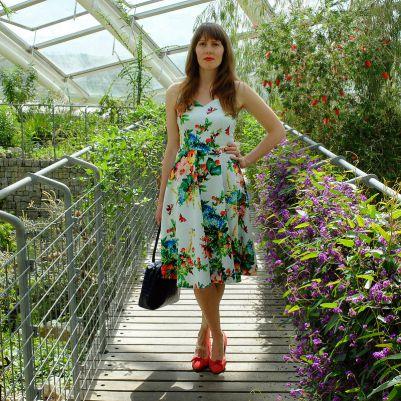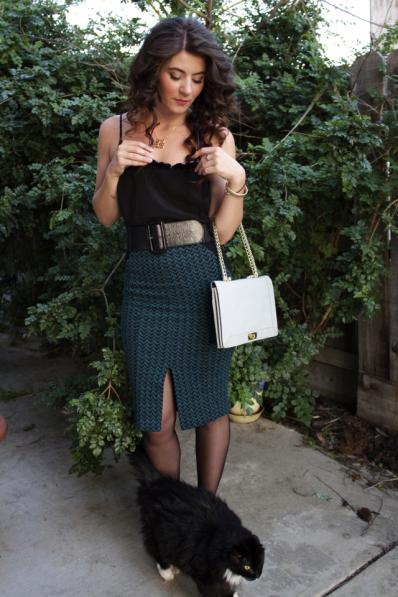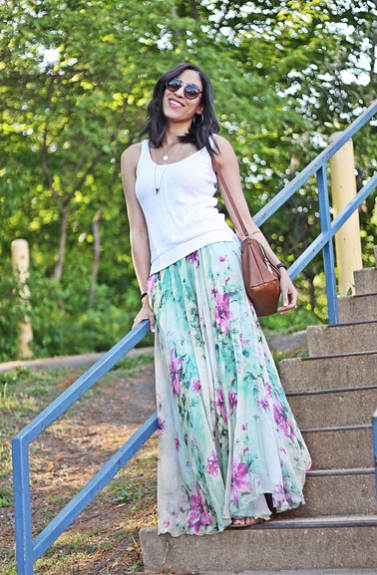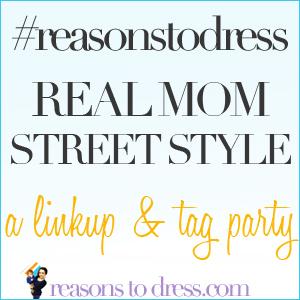 Feel free to follow Reasons to Dress on Bloglovin' so you never miss a post!
You'll get one email a day with all the new posts from all of the blogs you follow.