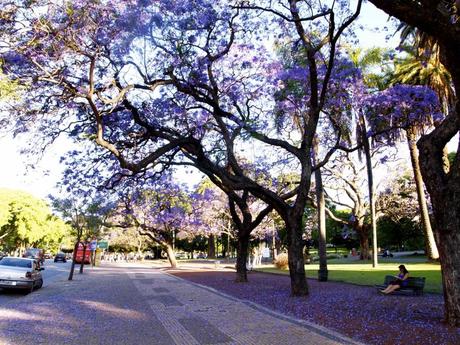 Buenos Aires is beautiful in any season but in spring it seems to blossom, just like the jacarandá flowers in the streets. Between September and November the temperature can vary from 14C (57F) to 22C (72F) and it is undoubtedly the perfect time to enjoy this beautiful city. Porteños are always complaining about the weather, but in spring they all seem to agree it is neither hot nor cold – and there are more sunny days than rainy days. The first day of spring in Argentina coincides with the national Student´s Day, so every year all the youth are out in the streets, eating outdoors and partying at night. So, if you are planning to visit Buenos Aires in the Spring, here are some tips!
Make some Argentine friends and go drink mate in the park. Mate is not only an infusion, but also an experience for the Argentine culture: People tend to sit in a circle on the grass and one of them is in charge of preparing the mate for the rest (in Argentina that's called cebar el mate). If you were to tell any Argentine that you would like to try some mate, they will most definetely be happy to let you try!
Take a tour round the city by bike! The best places to ride are the Bosques de Palermo (where you can use the bike ways to see the lakes and the amazing Planetario), Puerto Madero (no cars allowed and many places to stop and have a snack) and Plaza Francia, one of the most beautiful places to go on sunny days. If you don´t have a bike, there are many places to rent one in the city, at accesible costs. Remember that porteños love the spring as well, so on the weekends these places may get a little bit crowded.
Eat an asado outdoors. Porteños love organising asados, and spring is the perfect time to eat a good choripan in the sun. If you don´t know anyone who is hosting an asado, there are  excellent parrillas in the city to try the best Argentine meat. You can also have a dulce de leche ice cream for dessert!
Enjoy spring nights. In winter, nights can get really cold, so when spring comes everyone feels like going out and having fun. Buenos Aires has amazing nightlife, restaurants and bars start to get busy around

10pm

. Remember that in Buenos Aires night clubs open at about

1am till 6am

, so get ready to experience a city that never sleeps!
Have you been in Buenos Aires in spring? Tell us about your experience!