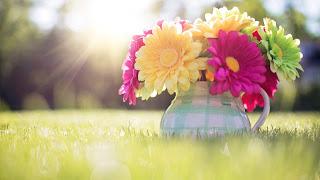 At last, the long awaited hint of spring sunshine is here. I don't care that it shows up how much my windows need cleaning or draws attention to dusty surfaces, I'm happy to have daylight into the early evening and I don't mind the sacrifice of an hour's sleep to get it. Spring. I can wake up, renewed as I begin to feel some energy.
A few years ago, I recognised that I develop some symptoms of SAD (Seasonal Affective Disorder) from November to March / April. It varies in severity, but nothing unmanageable, so far. Usually it is just the desire to hibernate brought about by fatigue and generally feeling a bit fed up. The change of scenery offered by a couple of breaks in Dumfries & Galloway works wonders and on this occasion, took my mind off other health issues that are being investigated. The SAD is lifting now.
There is cheerful new growth in the garden as plants come back to life. Spring flowers have been bursting through the borders and filling my patio pots with bright colours. I'm particularly proud of a tub of orangey tulips. It all gives a feeling of well-being after months of darkness.
Spring cleaning and sorting out is on the agenda. I'm aiming for retirement and I want to organize belongings in preparation for a possible future move. It will be a slow, meticulous process because I'm easily distracted and have to look at everything. I spent ages this afternoon going through personal memorabilia and deciding what to keep. It was good, singing along to Jack Savoretti and reading old newspaper cuttings, but it didn't really make much of an impression on the task. There's no rush, luckily. Tomorrow, if I feel like it, I might attempt to clean some windows and dust round. Oh and there's a couple of cobwebs that must have been manufactured during last night and need sweeping away before one grandson in particular goes on a spider hunt.
The poem I've chosen is Home Thoughts from Abroad by Robert Browning. It is one of my favourites and I've probably featured it before but it's worth another airing. I'm so fortunate that my secondary education included poetry and learning whole poems off by heart, this is one such poem. It's a discipline that seems to be missing now. I had wonderful, enthusiastic English teachers that introduced a world of poetry and literature of which I'm still firmly placed in.  
Home Thoughts From Abroad
Oh, to be in England
Now that April's there,
And whoever wakes in England
Sees, some morning, unaware,
That the lowest boughs and the brushwood sheaf
Round the elm-tree bole are in tiny leaf,
While the chaffinch sings on the orchard bough
In England—now!
And after April, when May follows,
And the whitethroat builds, and all the swallows!
Hark, where my blossomed pear-tree in the hedge
Leans to the field and scatters on the clover
Blossoms and dewdrops—at the bent spray's edge—
That's the wise thrush; he sings each song twice over,
Lest you should think he never could recapture
The first fine careless rapture!
And though the fields look rough with hoary dew,
All will be gay when noontide wakes anew
The buttercups, the little children's dower
—Far brighter than this gaudy melon-flower!
Robert Browning1812 - 1889
Thanks for reading, Pam x
Email This
BlogThis!
Share to Twitter
Share to Facebook
Reactions: