During the last week of February it rained every day.  I was counting the days until March, when "Winter" would be over.  I went out in the rain a few times.  I met Ozlem, a woman from Istanbul who lives here and works in internet marketing.  We'd found each other on Twitter, and she suggested we meet.  She's my first ever Twitter friend!  We met at Shakespeare's, which is not too far from me, and ate pasta.  She said she might have some work for me editing a website.  Although her English is excellent, she'd like a native speaker to look over her written work. Unlike most people I've met here who say they'll call for English lessons, Ozlem followed through a few days later with an assignment.
Ozlem also recommended a show currently playing at the State Theater. 
Yedi Kadin
  ( Seven Women) is a musical comedy about women in group therapy.  I felt like I was in a time warp, watching a consciousness-raising meeting from the seventies.  The music was interesting - a blend of contemporary Broadway and Turkish motifs.  Unfortunately, the singing was horrific.  These were actresses who obviously had either no vocal training or worse, very bad training.  Not one of them could carry a tune, necessitating a doubling of the vocal line by clarinet or piano on every song. It's a shame really.  The acting, directing and choreography was fine, and the musical material was interesting.  It would be a pleasant evening at the theater if the singer weren't so painful.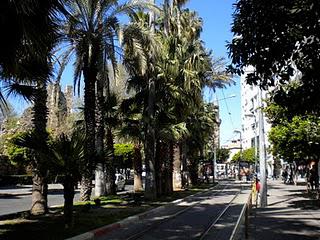 Ataturk Caddesi, our Champs Elysees.
On March 1st  I woke up to a sunny day and a feeling of Spring.  I made it through my first Winter here!  Everyone had warned me it was rainy and depressing with nothing to do, so I felt good that I managed to keep busy without the main attraction of beach weather. I hadn't been to the Tuesday tea at Akdim for a while, so I decided it was a good day to go and good weather for walking around downtown and running errands. I needed to refill my bus card and buy an opaque curtain for the guest room where I'll sleep when my parents arrive.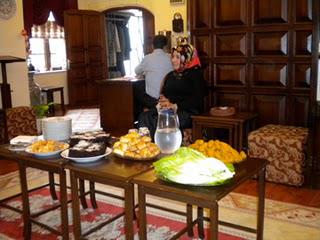 Tuesday tea, including mercimek kofte (lentil balls).
I got to Akdim late and missed the presentation, but ran into one of the women from the book group who'd been absent the last few months while visiting her children in England.  After the Akdim tea, she was headed to the downtown Tuesday pazaar, which I'd never known about, so I followed along.  The conversation was very edifying.  I don't know how we got on the subject of politics, but she went on about how much she disliked Tony Blair, and said that most English people felt the same way, because Blair was "anti-English".   Of course I knew the difference between the UK and England, but it had never occurred to me that a Prime Minister of Great Britain could be "anti-English".  What my friend seemed to mean by this was that money was unfairly diverted from England to Scotland, Northern Ireland and Wales.  Universities in Scotland are free, she said, but in England they are not.  Interesting.  That's another thing I like about being an ex-pat.  I don't just learn about Turkey, I also meet people from other parts of the world who have settled here.
I'd missed my weekly trip to the Friday pazaar because I was unable to motivate myself to go out in the rain.  I guess I'm becoming a real Antalyan!  Unlike  the pazaar in my neighborhood, which is in a square space and thus easy to navigate, this one meandered through small streets and was quite confusing.  I probably would never have found my way out of this maze if I hadn't run into Nazli.  We hadn't seen each other in a while, because she and Mahsun had been busy moving to a new apartment.  They'd settled in now, and she invited me back for tea and to show me the new place.
It's quite a nice apartment - very spacious, with a western bathroom in addition to the Turkish one, and only one flight up (their previous apartment was a fourth floor walk-up).  They moved here because their old apartment had a leaky ceiling, and the landlord said he'd fix it, but then he'd raise the rent.  They couldn't possibly pay more ( they were already paying half Mahsun's salary on rent), so they found this place.  It costs less because the location is less desirable.  Their old place was right off Ataturk Caddesi across from Hadrian's Gate, the entrance to Kaleici.  Now they're out of the tourist center, not far from where they were, but with a very different feel.  Next time I'm there I'll bring my camera.
A neighbor came by and joined us.  Like Nazli, she was from Eastern Turkey and was "covered".  She asked why I wasn't married, and tried to convince me that marriage was nice.  I tried to explain I had nothing against the practice, just hadn't had the opportunity.  I was pleased to hear Nazli explaining that my situation wasn't that unusual in the United States ( in other words, I'm not a weirdo).   I got the impression from looking out the windows that the area was a bit of a Kurdish ghetto.  "Career women"  are pretty much unheard of in that culture.
I stayed until I could not longer stand Sude's screaming.  Sude is the poster child for the terrible twos.  She has a pet rabbit, and I was afraid she was squeezing it so hard she would kill it.  I think she's too young to differentiate between stuffed and live animals.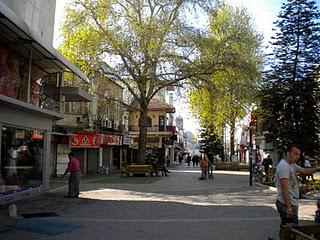 The main shopping street before it was torn up.
On the way home I stopped at the main street to run my errands.  The charming cobblestone pedestrian center was completely torn up.  I don't know whether they were repairing water pipes, electric lights or what, but the street was completely gone and we were all walking on dirt.  I remember this happening in a different part of town last March.  They like to get all their work done before the tourists arrive.  There's also something going on in my apartment's outdoor area, with walkways being torn up.  
On Saturday afternoon I was invited, through my German group, to the opening of an exhibit at the Kaleici Museum.  The exhibit was a collection of political cartoons from France and Germany from the 16th through 20 centuries.  The exhibit came from Ankara, where it had been created with the support of the French and German embassies.  We were all given substantial guidebooks, with color reproductions and explanations in German, French and Turkish.  I ran into Fritz there, and he introduced me to the German Consul.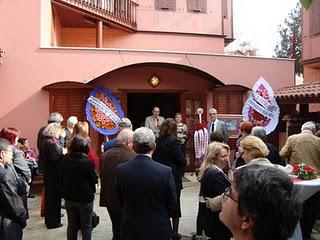 Exhibition opening at Kaleici Museum.
Afterwards, I went for a drink with Matthias, Helena and two of Helena's German students to an outdoor bar that looked like a beer garden.  It was a perfect spring day.  Later Matthias and I went for dinner at Seraser, where I'd eaten with the Antalya Women's Group.  I'd found the place rather pretentious and overpriced, but Helena said she thought it was the best restaurant in Antalya, and Matthias had never been there.  The group dinner had been around Christmas and the meal was roast Turkey, which wasn't one of their regular menu offerings, so I thought this time would be a more representative  experience.
There's no question Seraser is very elegant, and is the only restaurant we've been to where we were served at the same time.  I decided to test the kitchen by ordering the grilled ribeye.  It was edible, but didn't change my feeling that American cuts of meat can only be prepared properly in America.  Matthias had the filet, which seems to be the standard cut here.   I probably should have stuck with the more continental offerings, like duck confit or stuffed quail.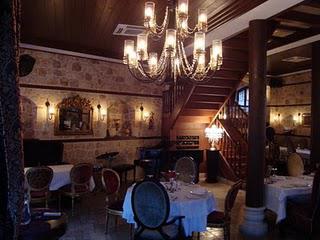 Sunday was the book group meeting.  We hadn't met since January, because so many were traveling in February, so I felt I had to go.  Ordinarily I want to, but Sunday was a rainy mess, and there's no way to get to Carol's place without quite a bit of walking.  I was soaked by the time I got there, but not as badly as poor Buddy, who was waiting outside the door.  He hasn't accepted that dogs are generally not allowed indoors here.  Actually, Carol would have let him in, but Bill is allergic to dogs.  Wednesday at Ayyas Buddy was so persistent we eventually hid him under our table.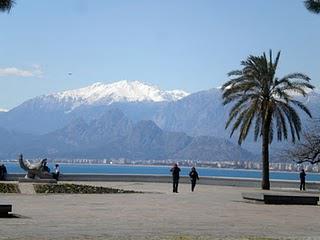 The view on the way to Carol's apartment.
After book group it was still pouring, so I came straight home.  I guess I spoke too soon about the end of Winter...