It will be a while yet before I plant anything in the ground but I have just placed a large order with
Vesey's
and a smaller one from Botanus and my husband just came home from CostCo with bags of Calla lilies and Gladiolus.
My Vesey`s coupon said spend $200 and save $100.So I did:
Plant      #/pack#/packs$/packTotal
Tuberosa Butterfly Flower (orange)31$10.95$10.95
Ostrich Plume Astilbe (red, tall)33$12.95$38.85
Blazing Stars Liatris (purple)301$10.95$10.95
Blazing Stars Liatris (white)301$10.95$10.95
Blazing Stars Liatris (purple)101$4.95$4.95
Crocosmia (red, orange, yellow)451$21.95$21.95
Garden Affair Lily (white w/ red, tall)91$21.95$21.95
Beverly Ann Giant Hybrid Lily (white, tall)31$11.95$11.95
Royal Wedding Poppy (white w/ plum)31$16.95$16.95
Humpback Whale Hosta (blue, large)11$18.95$18.95
Shaker's Prayer Iris (purple)61$21.95$21.95
Harvest Moon Oriental Poppy (orange, ruffled)11$7.95$7.95
Carnival Oriental Poppy (orange w/black)11$7.95$7.95
$206.25
******The Callas we loved getting last year as a gift from friends while the Glads can fill in between perennials in our newly planted "
Old Sun Garden
".  While I have not had much luck with them in the past I am willing to try them again this year given we need annual filler while our newly planted perennial garden grows out.  
******The final order from Botanus has ferns and grasses. Grasses for the "Old Sun Garden" are as planned, but the ferns indicate a change in direction for the front of the house where I have been pretending there is more sun than there is.
I have decided I would rather have gorgeous green and healthy plants that can take some sun than struggling colourful plants that fight the shade.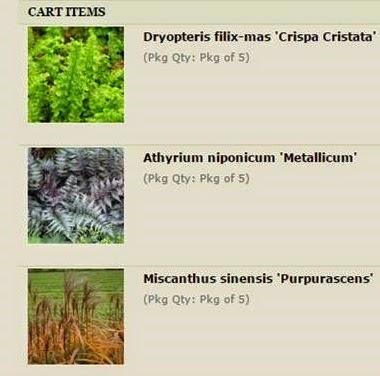 So why not start with some interesting and uncommon varieties of ferns for the front and watch them thrive?
***Sharing with Garden Tuesday, Tuesday Garden Party