Every Monday I am laden with fatigue. A weekend spent enjoying leads to Monday morning dishes, laundry, and cleaning. Preparing the garbage and recycling for Tuesday morning collection. Getting the children back into the school day routine... dull, yet necessary.
This is life. Each moment, good or bad, exciting or boring, is part of life. We can choose to go through the motions in a vacant blur, or we can sharpen our focus and find a joy in every spark of life we're blessed to have.
I hadn't planned to blog today, but at least my mother missed reading my posts over the weekend. Our short chat left my heart heavy. Someone we love is going through a terribly difficult time. One of those periods of life that is so hard to face that it makes you want to just disappear. Where you just can't imagine how you'll survive it and you're almost too scared to even try. You can't see the other side of it; you're not even sure you want to.
For her, and for anyone going through near unbearable circumstance, I want to remind you that you are only alone if you
choose
to be. There is
always
someone
you can turn to - a sister, a niece, a support group,  a stranger over the phone or in a chat room of people going through something similar.
Maybe you don't want to talk about it anymore, so instead, find a group of people who can help you forget about it for a while. Meetup or Craigslist are full of people looking to connect with others who share a hobby or a passion. Maybe you could take a class and learn something you've always wanted to learn. Something to remind you to live every single day. To remind you that
there is more
than what you're currently living.
I don't know you well, or live your life, or your experience. I'm not going through what you are. Yet, I can still feel you. I can imagine and therefore empathize with your fears, the tight ache in your chest, the darkness. My heart can fill with tears for your pain. And because it isn't my experience, I can step out of it and remind you to do the same at least once in a while.
Step out of it
. There is still joy and laughter to be found each day and one day, not so far off, your life will be filled with both again.
I do not walk in your shoes, but I can imagine the fit. Believe it or not, so can many others. Especially those who love you. The moment you most want to hide is exactly the time when you must reach out. Or at least stretch out your hand in response to the one that opens to you. Don't retreat inside of the pain. Allow yourself to feel it fully because only then can you pass through it. Lay down a moment to rest, but then
get. back. up.
Live; while you have the chance.
You will survive this. Life is a cycle, like nature, like seasons. No matter how harsh the winter, spring always comes round again. I love you.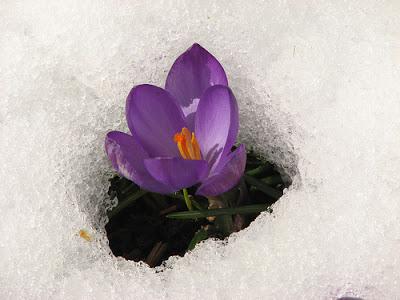 Photo by Clickclique via Flickr