The spring is a fantastic time to go shopping. It gives you the chance to ditch your old heavy winter clothes, slip into a nice dress, shop for sandals and beachwear, which gets you thinking about going on holiday.
This year there are some particularly interesting trends. As you will see, for the warmer weather, designers have really changed things up. Many of the trends that have dominated for the past few years have been completely reversed, this year.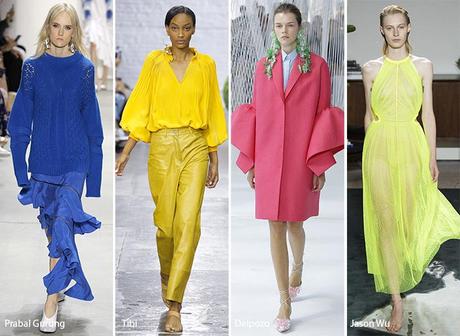 Bright is back
After nearly two years of neutral colours, dominating bright colours are set to make a comeback. Purple, blue and red have all featured heavily on the catwalks, but pink is the standout trend for 2017.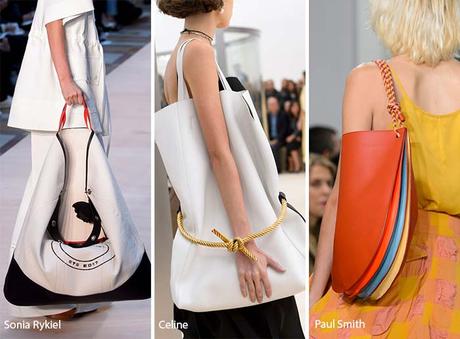 Bold Tote Bags
Large bags remain popular, but understandably, they come in much brighter colours and bolder designs than they did during the autumn and winter.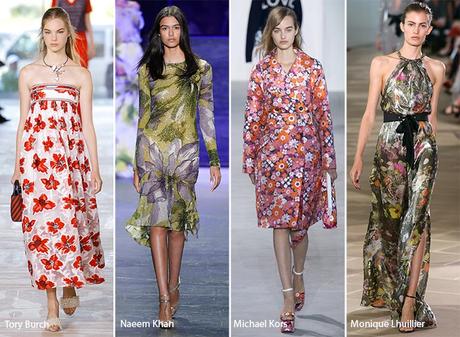 Floral Prints
Last year the trend was to pair a floral top with a plain skirt, jeans or trousers. This year, more women will be dressing head to toe in floral. Print dresses, tops and lightweight matching floral trousers are everywhere.
A very 80s feel
Without a doubt, the clothes we will be wearing this spring are going to be brighter and bolder than those we have been for the past few years. It appears that most designers have drawn their inspiration from the 80s and 90s when bold, bright, slightly over the top clothes, were all the rage.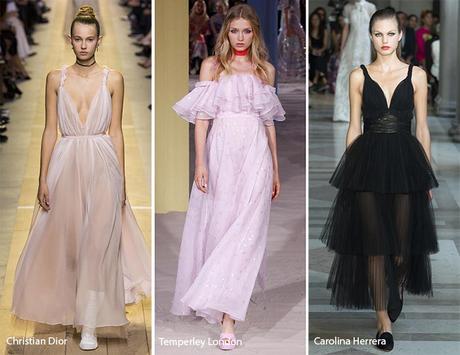 Romantic dresses
However, given the fact that not everyone will want to wear brightly coloured bold clothes some designers have gone in the opposite direction. There are also plenty of beautiful romantic and glamorous dresses available this year.
Most of these are made from luxurious fabrics like lace and organza. These very versatile dresses work well for a special occasion like a wedding. Yet, they can just as easily be paired with a smart jacket and worn for a weekend party.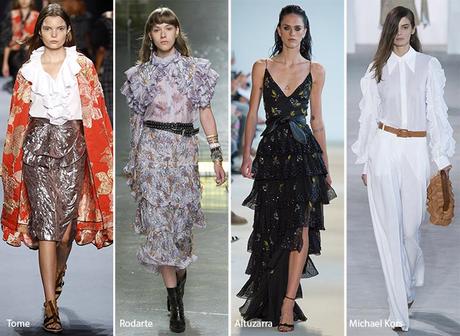 Layers and ruffles
There are also more layered and tiered dresses available, this year. Beaded overlay tops are another emerging dress and top trend.
Wearing these types of dresses is a great way to create a more flattering silhouette. Ruffle dresses are also good for this, and they are making a bit of a comeback, as well.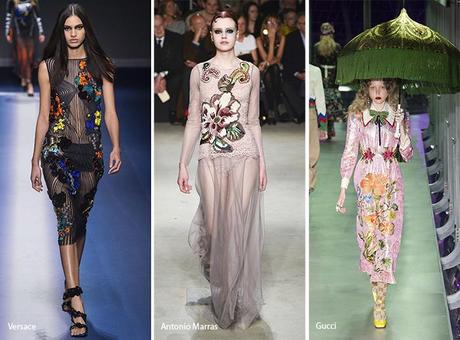 Pretty embroidery
Another emerging trend is heavily embellished clothing. Embroidery is appearing on every clothing item from tops to dresses. This is a trend that started last year, but the designs, for 2017, are far bigger and bolder. This range of plus size clothing includes some great embroidered clothing. It includes some especially nice embroidered jackets and dresses.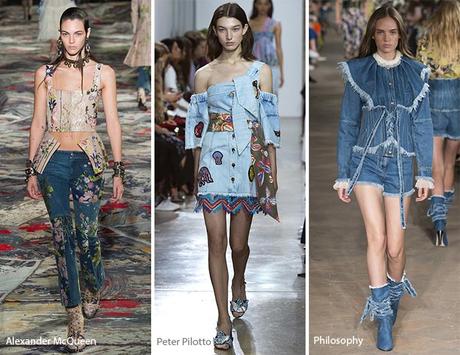 Vintage denim and satin tops
The last trend I am going to mention appears to be a throwback to the late 80s and early 90s. But, it is, in fact, two fashion trends that have been blended together to produce a fresh new look. In the 80s, washed out light denim was all the rage and it is set to be the same this spring. The difference is that this time around these jeans will be paired with satin tops instead of t-shirts. This interesting look has the potential to work for all kinds of women.
**