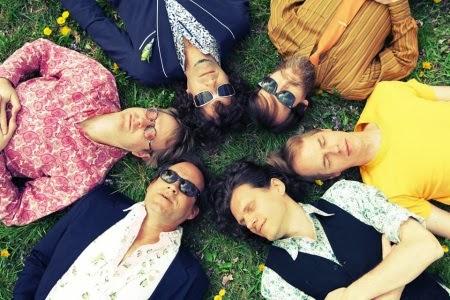 photo: Clare Elliot
Anglo-American septet Spottiswoode & His Enemies forgo joyful sounding songs on their new album English Dream. It's a concept album about good old England, home of front man Jonathan Spottiswoode who coined the term Anglicana to describe the mood for this project. Recorded in Brooklyn at The Bunker and New Warsaw Studio the bands follows in his footsteps as he visits a football match (Chelsea-Arsenal) in the sad love song Till My Dying Day, and nicks fruit in Golden Apple: "Only one. Don't the shake the branch / You could make an avalanche".
Spottiswoode & His Enemies always have been a band who put the melody first. They are not above the occasional singalong either and they got that covered in Clear Your Mind and the lead single No Time for Love with all band members stepping up to the mike. The Enemies hold back most of the time - they can play really soft for a septet. Their own multi-instrumentalist Riley McMahon acted as producer and with the help of engineer John Davis all instruments were carefully placed, miked and recorded. It sounds great, even when played through crap laptop speaker, but better pop it into a kick-ass audio set-up to be able to pick out all the nuances.
English Dream has quite a bit of soul searching. Is Spottiswoode the Dreamer Boy? Or the Melancholy Boy? Most likely he is both of them, still wondering what women want. He hasn't find the answer yet, but he knows how to write a song about them.
Spottiswoode & His Enemies:
Spottiswoode: vocals, guitar
John Young: electric & upright basses, vocals
Tim Vaill: drums, vocals
Candace DeBartolo: saxophone, vocals
Kevin Cordt: trumpet, recorder, vocals
Riley McMahon: guitar, mandolin, percussion, bells & whistles, vocals
Tony Lauria: piano, accordion, Hammond organ, vocals

English Dream is released on Old Soul Records. Release date: April 15.
Tracks:
Till My Dying Day
Golden Apple
Clear Your Mind
I Didn't Know I Was So Sad
English Dream
Majesty
Genius Flower
Butterfly
No Time for Love
Another Year
Dreamer Boy
Who Were You, Baby?
Melancholy Boy
Sweetest Girl
Live dates:
04/17 Joe's Pub, New York, NY
04/19 Club Helsinki, Hudson, NY
04/24 The Hamilton, Washington, DC
05/01 World Cafe Live @ The Queen, Wilmington, DE
05/03 Evening Muse, Charlotte, NC
05/09 Johnny D's, Somerville, MA
05/10 St. Lawrence Arts Center, Portland, ME
05/24 World Cafe Live, Philadelphia, PA
» spottiswoode.com
HCTF review of Wild Goosechase Expedition.