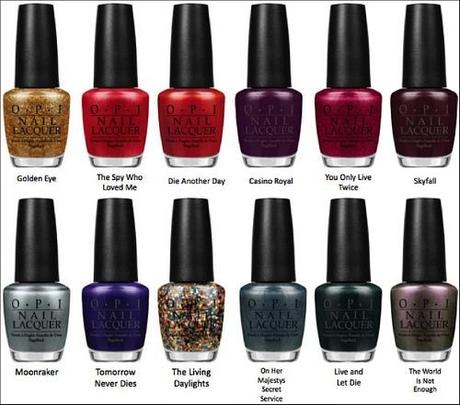 In celebration of the latest Bond movie, OPI is kicking off their holiday season 007 style. Their OPI Skyfall Collection includes 12 limited-edition lacquers with Bond-themed names including Golden Eye, The World Is Not Enough, and the highly anticipated Skyfall. (Okay, is it just us, or does Daniel Craig look hotter than usual in the latest Bond film? Ummm, that's totally a rhetorical question.) But the true standout color of this collection is the 18-carat gold-leaf top coat, fittingly titled The Man With The Golden Gun that can be applied over any of these oh-so-stunning colors creating a chic gold-leaf texture.
Here's a looksie at the spy-inspired collection, mani mavens: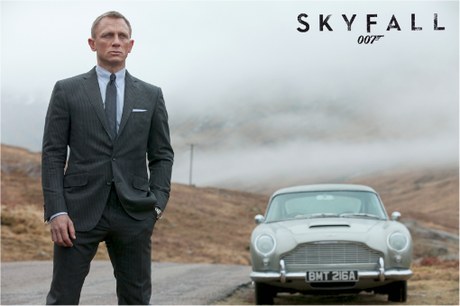 <<six shades that play off the
movie's "seductive" theme, and six that play off the "dangerous" side including >>>
Golden Eye - Intense gold
The Spy Who Loved Me – Romantic red
Die Another Day – Firey red
Casino Royale – Deep plum
You Only Live Twice – High-shimmer magenta
Skyfall – Rich maroon
Moonraker – Metallic gray with blue undertones
Tomorrow Never Dies – Intense purple
The Living Daylights – Multi-hued hexagonal-sized glitter
On Her Majesty's Secret Service – Blue-foil with intense sparkle
Live and Let Die – Blackish green with emerald flakes
The World is Not Enough – Brown-foil with a pink undertone
So go on, polish-loving pretties, and rock your Bond-esque nails International Man Maven of Mystery style. And when someone asks what color you're wearing you can cleverly answer: OPI. OPI Skyfall.
The Skyfall Collection is available at ULTA, Beauty Brands, and various other salons for $8.50 each
What do you think of OPI's James Bond collection, nail enthusiasts? Will you sport any of these spy-inspired shades?