The water was hot. Notoriously hot. Our Junior High School had been built in the days of the prison esthetic, with heavy, cinderblock walls painted in penitent colors. And the water was famously hot. One of our gym teachers, nameless here forevermore, challenged us to be men. It takes a kind of courage mostly illegal these days to lecture a room full of naked boys, but he once came in during mandatory shower time to tell us that anyone who could hold their hand under the hot tap for a full minute would get an A in gym. Since he was an ex-Marine nobody was foolish enough to take him up on this challenge. At least not in my class. It's difficult to be courageous when you're unclothed.
The incident I recall, however, occurred at the opposite end of the spectrum, in art class. You may remember those days when you wove reed baskets to take home to your mom. The thing about reeds is that they're brittle unless soaked in hot water. That was the key to working with them. Make them supple with hot water and then when they dried, they'd be remarkably sturdy, if somewhat lopsided. We had been weaving reed baskets when someone, unbeknownst to the teacher, had filled the sink with water as hot as our old school could deliver. Thinking it funny, since even in those days educational budgets were under threat, somebody dropped one of the very limited number of heavy reed-cutters into the sink, now at the very bottom of a basin of very hot water. I was not the guilty party; I don't know who was. The drain was plugged from the bottom. Very funny, no?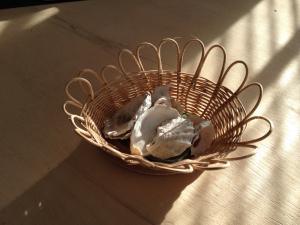 At the end of class. the teacher was not amused. "No one leaves this room until that cutter is out of the water," she flatly said. The first bell rang. She stood in front of the door. We would be late for the next period. Perhaps it is the weakness of character my religion instilled in me, but I've always had a great fear of not doing what I was told. It lingers to this day, that Fundamental unworthiness. This body of mere flesh is weak and prone to sinfulness. The clock was ticking. Teacher wanted the guilty party to suffer the price of their prank. I pulled up my sleeve, plunged my hand into the scalding water, pulled out the reed-cutter, slapped it on the counter, and walked out the door. We were released to class and the searing pain didn't last long physically, but spiritually it has never gone away.