50 years ago yesterday, the Boston Red Sox did something that none of their fans in their wildest dreams thought they could pull off before the season started in 1967: they won the American League pennant in one of the most dramatic and thrilling races in baseball history. And now that incredible 1967 season has been captured in a new book by Thomas J. Whalen called "Spirit of '67: The Cardiac Kids, El Birdos and the World Series that Captivated America." (Rowman & Littlefield Publishers)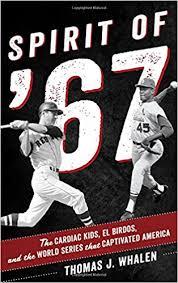 The book captures not just the Red Sox historic run, but that of the National League champion St. Louis Cardinals, and all they went through to reach the Series. Whalen grew up in Beverly, MA as a devoted Red Sox fan, and describes what it was like growing up a Sox fan before the 1967 season. The Red Sox were annual also-rans for the previous decade, and they ceased being an important of the sports landscape, in a time when the Celtics were racking up championships.
It was also a time America was going through some tumultuous changes, with the Vietnam War raging, and race riots in many of the country's big cities. The Beatles were at the height of their influence, and sexual mores were changing rapidly.
Whalen sets the background of the nation first, and then gives some historical background to both the Red Sox and Cardinals going into 1967. You know the Red Sox story: five World Series won until 1918, Babe Ruth leaves, the Sox don't win another pennant until 1946, don't have a black player until Pumpsie Green in 1959, and Tom Yawkey runs the Sox like a country club until Dick Williams becomes the manager.
The Cardinals weren't a successful team until Branch Rickey took over the club in 1919, and revolutionized the farm system and brought in Hall of Fame players like Dizzy Dean and Stan Musial, and went through a dry spell after beating the Red Sox in 1946, and more Hall of Famers are brought into the Cardinals in the 1960s, like Bob Gibson and Lou Brock.
Whalen profiles players on both clubs in alternating chapters, as well as the two managers, Dick Williams and Red Schoendienst.And he updates many of the players after the 1967 Series was played and how they spent their post-baseball careers.
I definitely enjoyed the book, and if you either remember that World Series, the incredible AL pennant race, or just like to read a fascinating baseball story, I suggest you read "Spirit of '67." It's more than worth your time to relive when Red Sox Nation was born.