I finished this painting late last night and I love it so much.
Unlike some paintings, where I know the title before I make the painting, this one took me forever to come up with a title. I jotted down words and phrases that came to mind as I stared at the finished painting: "voyage, progress, expectation, new world, glimpse, serene, realm" just trying to follow the same inspiration that led me to paint it. Finally I settled on "Spirit," and I can't say exactly why except that it instantly felt right.
Amongst the synonyms I found for the word "spirit" are air, animation, boldness, breath, energy, essence, fire, force, life, liveliness, substance, vital spark, and warmth.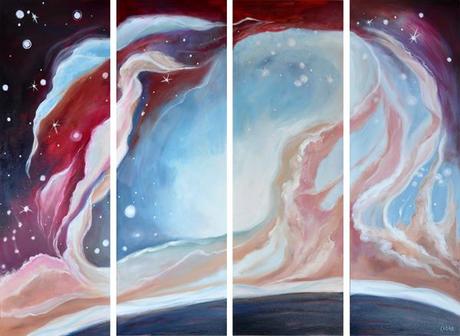 Spirit
Oil on Canvas
36″ x 48″ (Each canvas is 36″ x 12″)
© Cedar Lee, All Rights Reserved
Of course this image is open to interpretation, but the scene I envision is that I/you/the viewer is a traveler visiting a distant planet, and is lucky enough to witness this otherworldly sunrise. The gaseous vapors of the atmosphere slowly swirl through space, and the breathtaking show of colors shifts constantly as this world's sun rises over its horizon.
The scale of this scene is ginormous. The feeling it invokes in me makes me take a deep breath in awe. What is "Spirit?" It is not something that can be visually captured, not really. But this painting serves as a gateway for you to feel "Spirit."
This painting is on 4 separate panels, each 36″ x 12″, for a total size of 36″ x 48″, or 36″ x 54″ if you count the approximate 2″ of space between each canvas when they are hung on the wall. So, about 3 feet tall by 4.5 feet wide.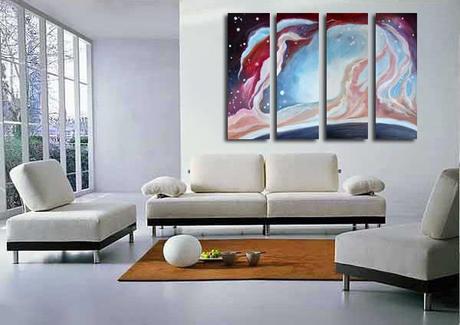 All 4 panels are 1.5″ deep, with the painting continuing onto the edges of the canvas, which makes for a really cool effect when you see the painting in person. You can see what I mean here: