by sweetandsavourypursuit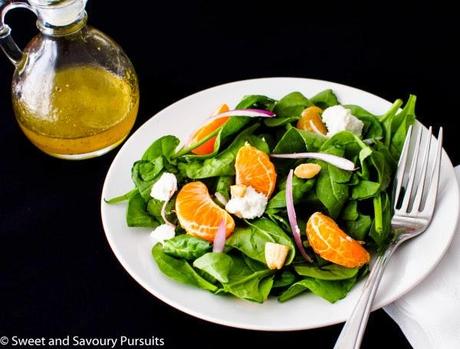 I just love this Spinach and Clementine Salad.  In fact, I have become somewhat addicted to it and have had it at least 4 times in the last 10 days! What's really great about it is that it is made up of complementing flavours and contrasting textures. The baby spinach with the soft goat cheese and the crunchy Marcona almonds, the clementines bursting with sweet juice and the sharp flavor of the red onions all come together to make a simple yet yummy spinach salad. This salad, filled with nutrient rich ingredients, is so delicious and so quick to put together that you will probably find yourself making it more often than other salads.  The salad will serve four people as a starter or a side, but if you are having it as a main, there will probably only be enough for 2-3, depending on your appetite!
If you are not familiar with Marcona almonds they are a Spanish variety of almonds found in many gourmet food markets but are becoming increasingly available in supermarkets.  I got mine from Costco.  If you don't have any in your pantry, I would just use regular unsalted almonds.
Servings: 4
Difficulty: easy
Author: Sweet and Savoury Pursuits
Ingredients:
For the salad:
5 cups packed baby spinach, washed
4-5 clementines, peeled and segmented
1/4 cup unsalted toasted Marcona (or regular) almonds, coarsely chopped
1/4 small red onion, sliced into thin slivers
crumbled soft goat cheese, to taste
For the dressing:
3 Tbs. extra virgin olive oil
1 Tbs. pure apple cider vinegar
2 tsp. honey
1/8 tsp. salt
freshly ground pepper, to taste
Directions:
For the dressing, combine the olive oil, apple cider vinegar, honey, salt and pepper and whisk until the dressing has emulsified. Set aside.
In a large bowl, top the baby spinach with the clementines, red onion, almonds, and goat cheese.   Drizzle the dressing over the salad and toss well or serve the dressing on the side.
Enjoy!