by glutenfreecanteen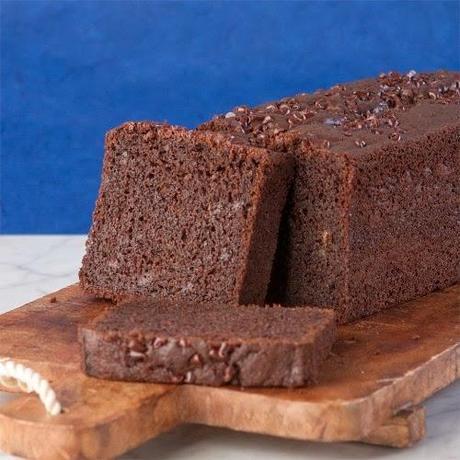 Imagine chocolate, banana, grain-free (almond flour) and chocolate chips all in one cake. One big giant pound cake, that is.
It's a pretty large (and tall) loaf, made in a
Pullman
9-inch x 4-inch pan, so count on having plenty to share.  It's also easy to mix together. Two bowls, one wooden spoon, a whisk and that's it.
The cake takes a while to bake (blame it on the bananas) but it will eventually get there. Using an instant read thermometer, it should read somewhere close to 195°F or use a toothpick and make sure it comes out with dry crumbs – nothing gooey. As it cools, the cake will firm up and it tastes even better the 2nd day (chocolate ages well). A little crunchy on the edges and fudgy in the center. Be sure to slice it with a serrated knife for the best results.
That little tiny bit of brewed coffee does plenty to pop the chocolate flavor and does nothing to make the cake taste like coffee. It's important, but decaf is a fine alternative. Coconut sugar is the best choice for this recipe, but granulated sugar will work, too. There's a small amount of cinnamon which is a nice companion to chocolate, but it by no means tastes like cinnamon cake. It's a big bold chocolate cake with lots of banana flavor.
I'm pretty sure we've found a new pound cake to love around here. Any excuse for another pot of coffee.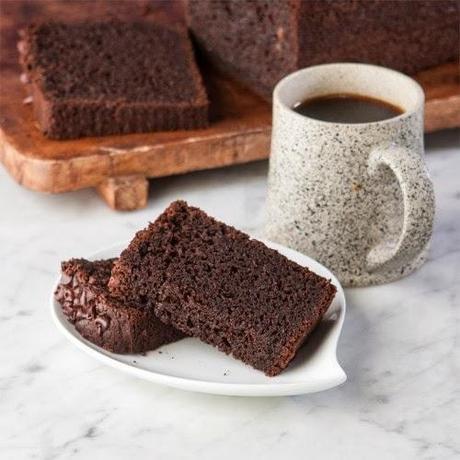 Ingredients
   230 grams blanched almond flour (2⅓ cups)
   80 grams tapioca starch (1/2 cup)
   2 tablespoons coconut flour
   35 grams unsweetened cocoa (1/3 cup)
   150 grams coconut sugar (3/4 cup)
   2 teaspoons baking powder
   ½ teaspoons kosher salt
   ½ teaspoon baking soda
   ½ teaspoon cinnamon
   180 grams pureed banana (about 2 medium to large gnarly bananas)
   120 grams non-dairy milk (1/2 cup)
   3 extra large eggs
   160 grams neutral vegetable oil (2/3 cup)
   1 teaspoon vanilla extract
   1 teaspoon brewed coffee
   70 grams semisweet mini chocolate chips (1/2 cup)
Instructions
   Spray a 9×5-inch pan with nonstick spray. Do not preheat the oven. In a large bowl whisk together almond flour, starch, coconut flour, cocoa, coconut sugar, baking powder, salt, baking soda and cinnamon until well combined. In a medium bowl whisk together banana, milk, egg, oil, vanilla and coffee until smooth. Add to flour mixture and fold until combined and the batter is smooth. Fold in most the chocolate chips, holding out a tablespoon or two.
   Scrape batter into the prepared pan and top with remaining chocolate chips. Place in a cold oven and turn the temperature to 350°F. Bake 35 minutes and then turn the temperature down to 325°F and bake 25-30 minutes more or until the center of the cake is done and a toothpick inserted comes out with dry chocolate crumbs. Cool in the pan about 15 minutes and transfer cake to a rack to cool completely before slicing (with a serrated knife).