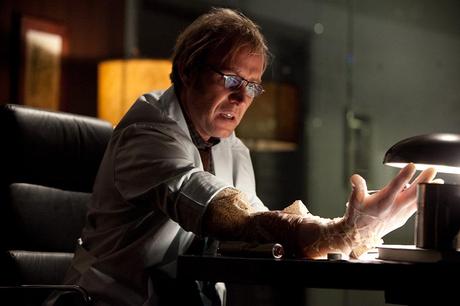 (Dr. Curtis Connors from the movie Spiderman)
The most recently released version of Spiderman shows a mad scientist obsessed with his own ability to transform himself into a lizard. It all starts as part of a science experiment gone wrong- he's using an injection from his lab to try to grow back an arm that has been chopped off. In the process of just trying to regrow his arm, he ends up transforming himself into a completely different creature. This is just one example of synthetic biology that shows up in our lives. In this case it is purely fictional in nature. It may not always be that way.
This year the 2012 Nobel Prize for medicine went to two men (Sir John Gurdon and Shinya Yamanaka) for a discovery about stem cells that could bring this surreal, onscreen entertainment into reality. Both men contributed to the effort to manipulate stem cells in the body. Certain stem cells are blanks in that they don't start out with the same function for which they end up. If researchers manipulate them correctly, it is possible they could clone an entire human being. It also opens the door for the science fiction lizard of Spiderman to become a reality- this technology would allow cells of any variety (or organ) to be grown from a small sample of other cells.
In an essay for the Wall Street Journal last weekend, George M Church and Ed Regis write about larger applications of this technology in synthetic biology. Regenerative medicine just scratches the surface of what we are able to manipulate with genes.
"It is now routine to genetically reprogram microbes to make plastics, biofuels, vaccines and antibiotics. They have been engineered to detect arsenic levels in drinking water, destroy cancer cells and store digital data in DNA, making bacteria into biological flash drives."
And apparently resurrecting life from the dead is also a claim of synthetic biology:
"As for resurrecting extinct animals, this has already been done. In 2003, in Spain, a tree fell on a 13-year-old female goat named Celia, killing her. She was the last living Pyrenean ibex, a subspecies of wild mountain goat, which thereupon became extinct. A few years earlier, fortunately, a Spanish biologist had taken skin scrapings from Celia's ears and stored them in liquid nitrogen in order to preserve the ibex's genetic line. He and his team removed the nucleus from one of these ear cells, transferred it into an egg cell of a domestic goat and implanted it into the uterus of a surrogate mother, who gave birth to a live Pyrenean ibex."
Another potential application is to kill the replication method of viruses and render them ineffective.
"If you change the genetic code of the host cell, as well as that of the cellular machinery that reads and expresses the viral genome, then the virus could no longer replicate."
Regenerative medicine and synthetic biology seem to pervade the news these days with surprising abundance. Is this a sign that the field is on the verge of real discovery or is this just more hype on a trendy path of science fiction? Only time will tell.