Life wouldn't be fun without salsa- the dance and the dip, both are amazing, spicy and interesting. Though Salsa dance is on my wish list too but here I am showing "How to make spicy salsa dip". 
   Salsa dip is spicy, tangy, easy, yummy and satisfying. You can use this dip for so many recipes. Tortillas, Nachos, Frankie,

Calzone

and you can put it on bread too. It is super easy and can be done in a jiffy. Some people make dry salsa (without cooking the vegetables) but I prefer to make it like this.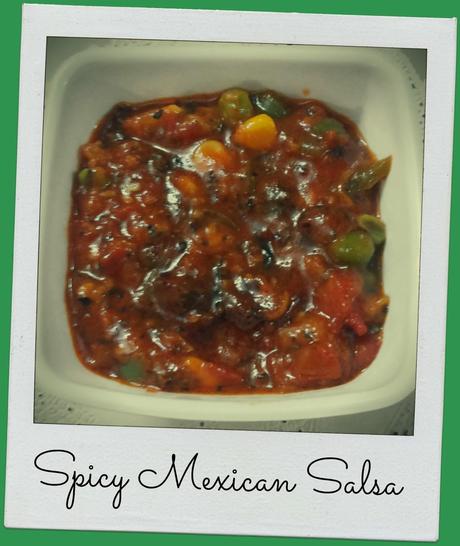 Serves : 2 persons
Preparation time : 5-10 minutes
Cooking time : 5-10 minutes
Ingredients :
Tomatoes (big and red ones) : 2-3 
Capsicum : 1-2 
Onion (finely chopped) : 1 medium
American corn : 1/4 cup
Green chili (finely chopped) : 1 
Oregano : 1 tsp
Red chili flakes : 1/4 tsp
Basil leaves : 3-4
Ginger (grated) : 1/2 tsp
Carom seeds : 1/4 tsp
Tomato ketchup : 1-2 tsp
Green chili ketchup : 1 tsp
Sugar : 1/2 tsp
Salt : to taste
Oil : 1 tbsp
Method :
1. Smoke the capsicum and tomatoes on gas or on stove for about 2-3 mins. Peel their skin off and finely chop them. 
2. Heat oil in a kadhai, add carom seeds, crushed basil leaves, oregano, red chili flakes, green chili and ginger. Saute them.
3. Now add onions, roasted capsicum, corn and saute them well. Cook until the onions get transparent.
4. Now add roasted tomatoes and cook it for a minute or until tomatoes get little soft and tender.
5. Add tomato ketchup, green chili sauce, sugar and salt. 
6. Cook it on medium flame for a minute. The salsa should not be too runny. 
7. Spicy tangy Mexican salsa is ready. Enjoy with nachos or chips.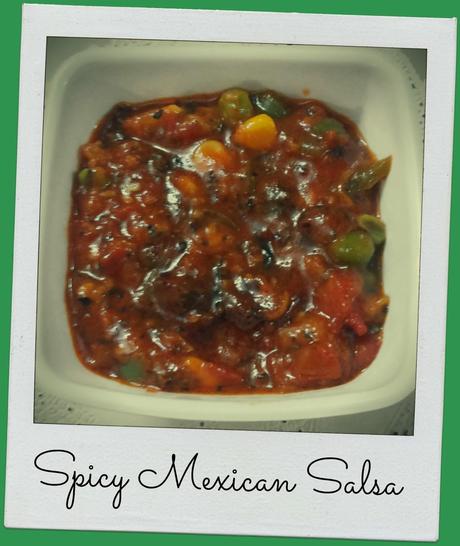 Handy tips : 
# For making dry salsa : In a bowl, take chopped tomatoes, onions, capsicum, corn and cilantro. Add salt, black pepper powder and lemon juice. Mix all of them together. Voila and we are done.