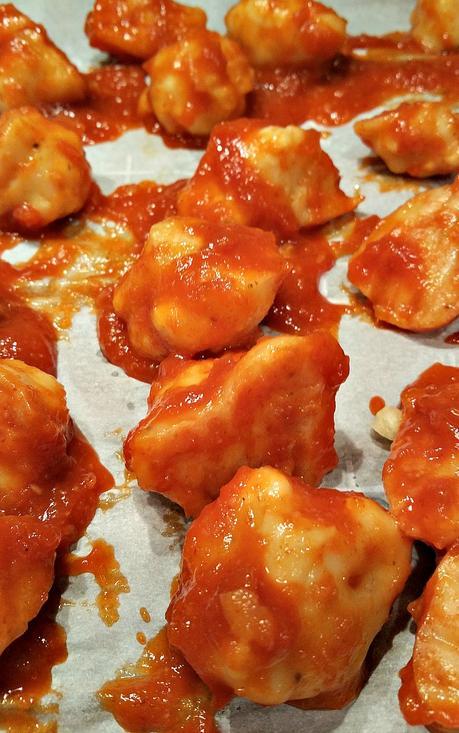 Happy New Years Everyone!
I have a feeling 2016 is going to be an AMAZING year!
And to start things off with a bang, I thought I would take my popular Cauliflower Bites from my Panda Express Orange 'Chicken' Recipe and spice them up a little bit.
These Buffalo Cauliflower Bites are just the thing to take to parties, potlucks, or just to snack on during movie night.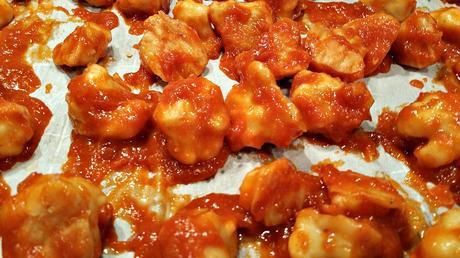 I had hoped to have this recipe out before New Years – but sadly had to work instead.  Oh well – they'll still be perfect for the big Super Bowl Sunday game coming up soon.
Do you like spicy?  Sriracha spicy?  
Then you're going to love these!  Slightly sweet, super sticky, and with just enough kick to make you take notice.  My daughter tasted the sauce as I was cooking it last night and I swear the first words out of her mouth were "O" "M" "G".
Trust me – That's usually a good sign!
I hope you like them as much as she did

Now I've already heard from my friends in Canada that cauliflower is like $8 a head…..  
Say WHAT?!  Holy smokes!  If that's the case, I'm sure you could find a suitable substitute for the cauliflower.  My original thought was Tofu Cubes that were seasoned and baked until a little crispy.  You may want to play around with that and let me know if you find something that works.  Or Seitan bites maybe…..   (wow $8 for a head of cauliflower?  I cannot imagine!)
Anyway – here you go.
Here's to an AWESOME 2016!

Spicy Buffalo Cauliflower Bites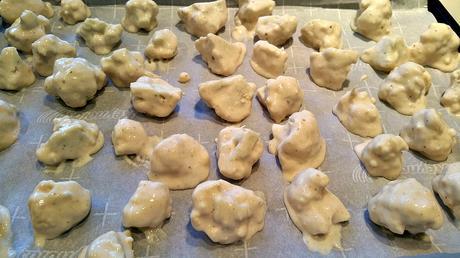 Take a head of cauliflower and break it up into bite sized pieces.
We're going to use the same batter as my Orange Chicken Recipe – so mix a cup of flour with a cup of Almond Milk and 2 tsp of Garlic Powder.  I also like to add a teaspoon or two of Apple Cider Vinegar to get more of a buttermilk flavor.  Add salt and pepper to taste – it should be like a pancake batter.
Once your batter comes together, drop in your cauliflower pieces and stir to coat evenly.  Lay them on a baking sheet (I highly recommend parchment paper) and bake for 15-20 minutes at 450 degrees F.
For the sauce – in a small saucepan mix 1/2 cup of your favorite Ketchup, 1/4 cup of Sriracha Hot Sauce, 1 Tablespoon of Red Wine Vinegar, 1 Tablespoon of Maple Syrup, 1 tsp of Soy Sauce, and a pinch or two of ground cumin.
When that starts to simmer, turn off the heat and let it cool until the cauliflower bites finish baking.  Then dump in the cauliflower and stir to coat evenly.
Redistribute the cauliflower on your baking sheet and bake for an additional 5-10 minutes.
Enjoy!
Save
Print
Spicy Buffalo Cauliflower Bites
Prep time:  10 mins
Cook time:  30 mins
Total time:  40 mins
Serves: 4 servings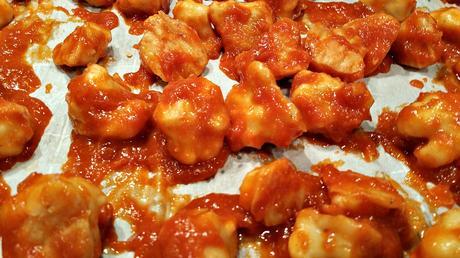 Ready for an amazing 2016? Start off your new year right with these Spicy Buffalo Cauliflower Bites. Perfect for the big game or potluck. Ingredients
1 medium head Cauliflower, broken up into small pieces
The Batter
1 cup flour
1 cup Almond Milk
2 tsp Apple Cider Vinegar
2 tsp Garlic Powder
Salt and Pepper to taste
The Sauce
½ cup Ketchup
¼ cup Sriracha Hot Sauce
1 Tbls Red Wine Vinegar
1 Tbls Maple Syrup
1 tsp Soy Sauce
¼ tsp ground Cumin
Instructions
Preheat oven to 450 degrees F
Add apple cider vinegar to Almond Milk and whisk to combine
Add garlic powder to flour and whisk to combine
Stir wet into dry to make a tick batter
Salt and pepper to taste
Break cauliflower into bite sized pieces and add to batter
Stir until all pieces are evenly coated
Lay on parchment lined cookie sheet and bake for 15-20 minutes
Add all sauce ingredients to medium saucepan
Whisk to combine and heat to simmer
Once the breaded cauliflower bites are finished baking, add to sauce
Stir once more to evenly coat and redistribute on cookie sheet
Bake an additional 5-10 minutes
3.4.3177