This recipe combines 3 of my favorite things, potatoes, red chile, and garlicky oil-free aioli. If you're a chile lover - these Spicy Adobo Potatoes are something you HAVE to try!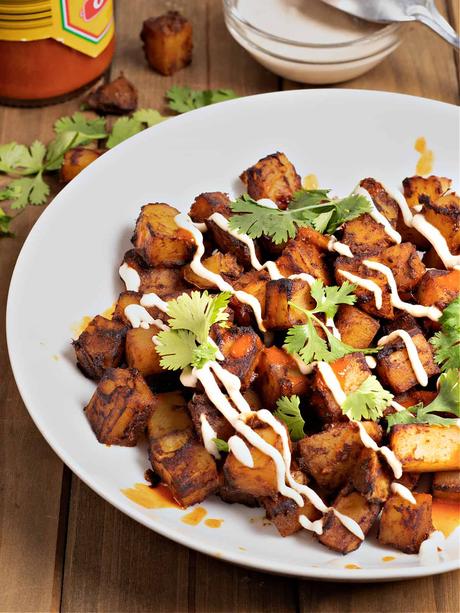 Truth be told, when I saw my favorite restauranteur and youtube chef Rick Bayless post this recipe, I KNEW I had to try it.
Because if you know me - you know how I love red chile, especially on potatoes. My Veggie Papas with Red Chile Sauce is still one of my favorite breakfast meals of all time.
His recipe was a simple recipe, combining red chile, potatoes, and a mayo-based aioli. I thought, "Hmmm, I already have a Red Chile Sauce AND a Vegan Garlic Aioli recipe, this one looks easy AND delicious! I have to! ".
But what really intrigued me was how he made HIS chile sauce. For one, he made an Adobo Sauce, which uses red chile along with other ingredients. I have made adobo before in an older recipe, and it turned out pretty good.
But he also used dried ancho chile POWDER, and that is something I have never tried before. I always make my chile from the pods themselves, not the powder, so I had to try his recipe for comparison - and that is what today's recipe is all about.
So lots of options on this one and I'll try and break down your choices. But let me just say, if you try Chef Bayless's adobo recipe - it IS spicy, and that should say a lot coming from me.
Adobo Potatoes- options and ingredients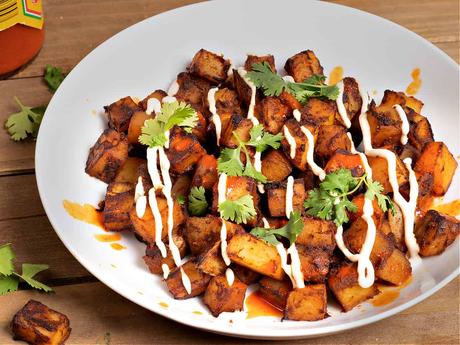 You will need about 3 large Yukon Gold Potatoes (~1.5 lbs)
Also, my Vegan Garlic Aioli, about ½ cup (store the rest for sandwiches)
And about ¼ cup of red chile sauce
Your choices for red chile sauces are:
Chef Bayless' Adobo Sauce (this is what I used in this recipe)
My BNV Adobo Sauce
My New Mexican Red Chile Sauce (still my favorite, sorry Rick!)
I found the dried Ancho Chile Powder that Chef Rick uses in his recipe for under $5 at my local Fred Meyer.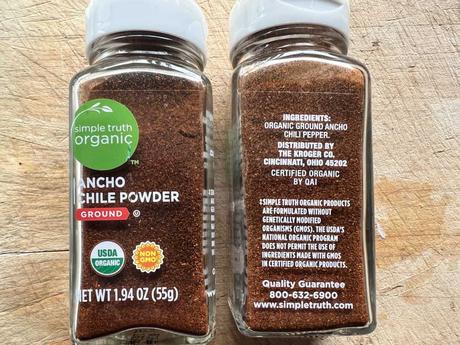 Here is an Amazon link also in case you need it. As an affiliate, I do earn from your purchase but at no extra cost to you.
Prepping the Recipe
Start by making my Vegan Garlic Aioli and then set it in the fridge until we need it.
Then decide which chile sauce you are going to use and make that next. They are all easy to make using your blender.
If using Chef Rick's recipe, I used the entire 2oz bottle of ancho chile powder and it did come out to what he calls "a scant ½ cup"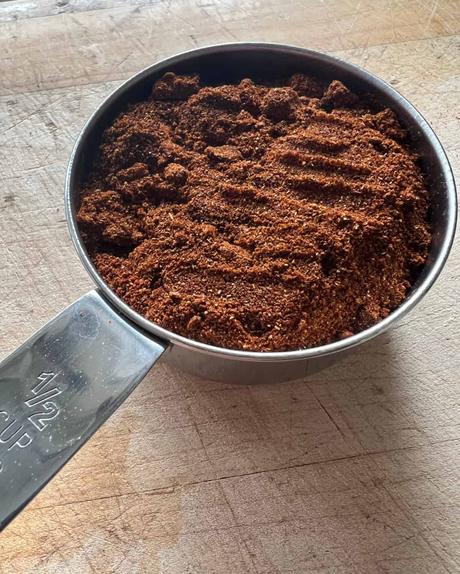 Finally, cube your potatoes into ½" squares and lay them out on a parchment-lined baking sheet.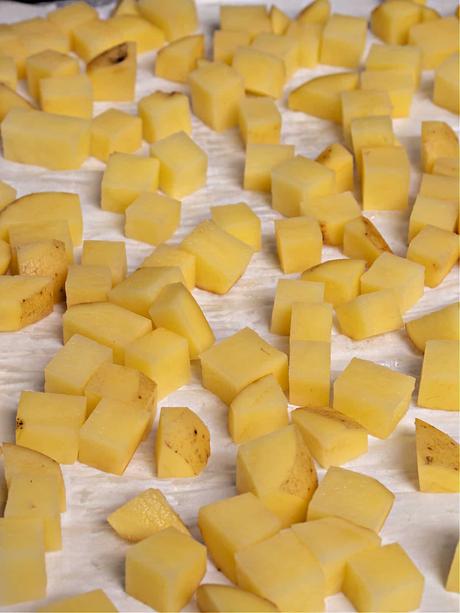 Roast at 400° F for 10 minutes.
Remove the potatoes and add 4 Tablespoons of the red chile sauce you made. Using a spoon or spatula, carefully toss and mix them around until all the potatoes are evenly coated.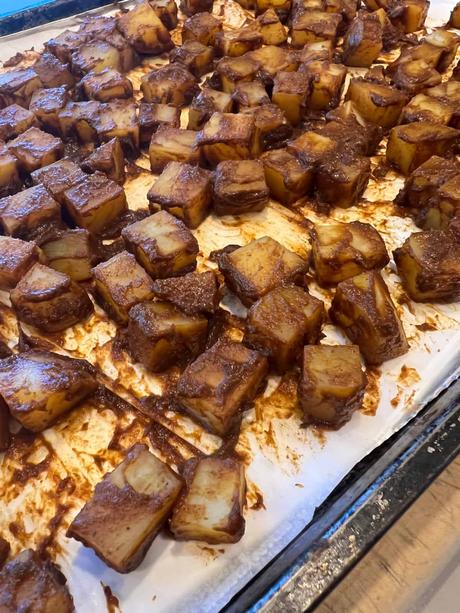 Place them back in the oven to finish roasting for another 10-15 minutes.
When finished, place them into a serving bowl and spoon some of that aioli we made earlier on top. I got fancy and thinned my aioli with a few tablespoons of plant milk (you can also use water, more apple cider vinegar, or lemon juice) and spooned some into a squeeze bottle - I know, I'm a food blogger so it has to look fancy.
Top with your favorite hot sauce and cilantro and serve.
Conclusion
I must say, making Rick's Adobo Recipe WAS easy and the Ancho Chile Powder WAS convenient and already at my grocery store.
And it was GOOD too, although a lot spicier than I imagined. But honestly, I think I like my own Red Chile Sauce better. But, you have all 3 options to try here and if you do make this, I'd be interested to hear which is YOUR favorite in the comments below.
That's the recipe for the week, I hope you enjoy it.
I know some of you do not do spicy (my wife included) so this may not be the recipe for you. But, I am NOT one of those food bloggers who post recipes just for views, money and google positioning.
I post the foods I actually eat on my whole food, plant-based journey.
This is simply one recipe I wanted to try. Some are good, some are bad, but regardless, I think it's important for you to see I do this for MY health, documenting MY journey, and not just to have a popular blog with hundreds of recipes so I can cater to google and the masses.
Being authentic is very important to me, and hopefully, it is to you too.
Anyway, enough jawin' as my mom used to say. Have a great week and we'll see you soon.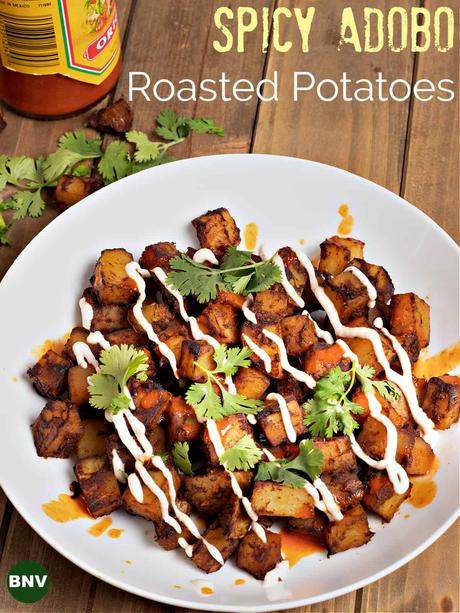 Print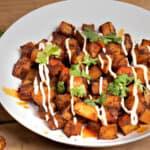 Spicy Adobo Potatoes
Author:

Chuck Underwood

Prep Time:

45 min

Cook Time:

25 min

Total Time:

1 hour 10 minutes

Yield:

2-4 servings

Category:

Potatoes, Side

Method:

Oven

Cuisine:

Mexican

Diet:

Vegan
Print Recipe
Pin Recipe
---
Description
This recipe combines 3 of my favorite things, potatoes, red chile, and garlicky oil-free aioli. If you're a chile lover - these Spicy Adobo Potatoes are something you HAVE to try!
---
Ingredients
Units
½

cup

vegan garlic aioli

¼

cup

red chile sauce

3

large Yukon gold potatoes
Red Chile Sauce Options
Chef Rick's Adobo
My BNV Adobo
My BNV Red Chile Sauce
---
Instructions
Prepare aioli according to recipe instructions and keep refrigerated until needed
Prepare whichever red chile sauce you like
Cube potatoes into ½ squares and place on a parchment-lined baking sheet
Roast potatoes at 400° F for 10 minutes
Using a spoon, mix and toss the potatoes with the red chile until evenly coated
Continue roasting for an additional 10-15 min
Place into a serving dish and top with aioli and your favorite hot sauce
Garnish with fresh cilantro leaves
---
Notes
Like This Recipe?  Tips & Donations Are Always Appreciated!
Keywords: adobo potatoes
Did you make this recipe?
Tag @brandnewvegan on Instagram and hashtag it #brandnewvegan
¼¼½½¾¾⅓⅓⅔⅔⅕⅕⅖⅖⅗⅗⅘⅘⅙⅙⅚⅚⅛⅛⅜⅜⅝⅝⅞⅞