The best part about food blogging is the community you become a part of once you step foot into this cookie-crazed, brownie-battered, homemade pasta-loving group. There are so many conferences you can go to where you'll enjoy an insane amount of delicious and unique food while learning useful tips for getting your blog out in the foodie world. But one of the coolest things I've discovered are the virtual centered events where bloggers band together to bring their readers all kinds of recipes that follow some kind of theme. It's an awesome way to meet other bloggers and find new and exciting ways to use specific ingredients.
I recently was introduced to The Leftovers Club. Food bloggers are constantly burdened with leftovers. It's inevitable. The concept of the Leftovers Club is to share those pesky leftovers with a fellow blogger. It is pure genius. This is my first time sharing with The Leftovers Club and I am beyond excited. I was paired up with Aly of Cooking with Stilettos, a blog I've been following for quite some time. Ironically, I found out about the Leftovers Club through Aly's blog so it is pretty fitting that I got paired up with her! She inspired me to join. :)
Aly reached out to me within minutes of us getting our partners. She is super sweet – and she lives in Philadelphia! That automatically gives her major points in my book, since I'm a Philly fan. My dad is from South Philly, and my younger sister is about to head out there to start her college career at Temple University (where half of my family also went). Aly and I went back and forth with our likes, our dislikes, and talked a little about our careers and lifestyles. I love getting to know other bloggers and developing friendships along the way. If you haven't already, you need to check out Aly's blog and all of her recipes. She is very creative in the kitchen - like this Triscuit Crusted Chicken. I NEED to try this! I am also a huge fan of cookies and cream flavored desserts, so these Cookies and Cream Brownies stood out to me right away - another must-try! 

I wanted to share a recipe with Aly that was a little different than your quintessential chocolate dessert. I know, you're like…uh, what's wrong with chocolate?! Absolutely nothing! I just wanted to do something different. I've also been dying to try this recipe at home since making it at work a few weeks ago. I figured now would be the perfect time for this Spiced Honey Cake. I made the cake in a large Bundt pan to bring to a family dinner at my aunt's the night my sister arrived in town for a visit. I doubled the recipe so I'd have a lot to work with. After pouring just the right amount in my Bundt pan, the rest went right into my mini-loaf pans for to send up to Philly for Aly to enjoy. Plus these mini are loafs so cute. Adorable and delicious? Sounds good to me!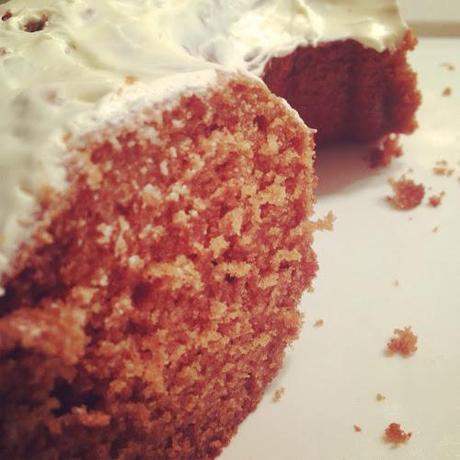 Spiced Honey Cake
Adapted from a Publix Aprons recipe
Makes 1 loaf

1¾ cups all-purpose flour
1 tsp ground cinnamon
¾ tsp baking soda
¾ tsp salt
½ tsp baking powder
½ tsp ground ginger
1 cup honey
2/3 cup vegetable oil
½ cup brewed coffee, cooled
2 large eggs
¼ cup packed brown sugar
2 tbsp vanilla extract
Preheat the oven to 350 degrees. Spray a 9"x5"x3" loaf pan and place 2 strips of parchment paper perpendicular across the pan. This will help to remove the loaf from the pan after it has finished baking.
Whisk together flour, cinnamon, baking soda, salt, baking powder and ginger in a bowl. Whisk together honey, oil and coffee in another bowl.
In the bowl of a stand mixer, beat together eggs and brown sugar on high. Reduce to low speed and add the honey mixture and vanilla extract. Add the flour mixture and mix until well combined.
The batter will be very thin. Pour it into the loaf pan and bake for 30 minutes. Loosely cover the pan with tin foil and bake for another 30 minutes or until a toothpick comes out clean. Cool for about 1 hour. Spread on some cream cheese frosting or peanut butter for more delicious flavor!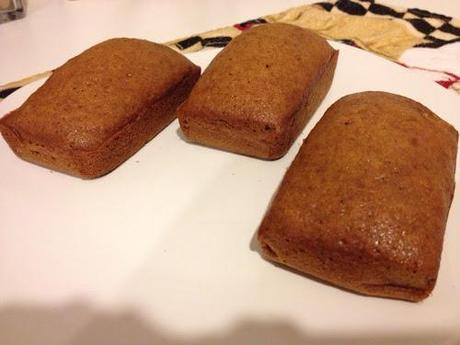 Make sure to check out all the other bloggers who participated in this month Leftovers Club recipe swap! If you want to get in on all the fun, head over here to learn more about it and sign up!

Posted with Blogsy