Whole grain pasta mixed with a creamy, light gruyere cheese sauce, fresh jumbo shrimp, sweet cherry tomatoes, and sliced Baby Bella mushrooms make for a perfect summer meal, especially when paired with

CK Mondavi

white wine such as Chardonnay or one of their newest blends, Blonde Five.


I don't normally go for creamy pasta dishes. They're often heavy and leave me feeling way overfull, but when I saw this recipe for Creamy Gruyere and Shrimp Pasta from CK Mondavi's Favorite Family Recipes, I have to admit, I was kind of smitten. The picture had my mouth watering, and it really did not look all that creamy. 
There's no heavy cream or butter in the cheese sauce, it's simple — milk, flour, and cheese. I used skim milk so that lightened it up even more — although it meant I had to increase the flour by a smidgen to get it to the perfect consistency. No worries though, this pasta dish turned out incredible. 
I bulked it up in the veggie department too by adding cherry tomatoes and mushrooms.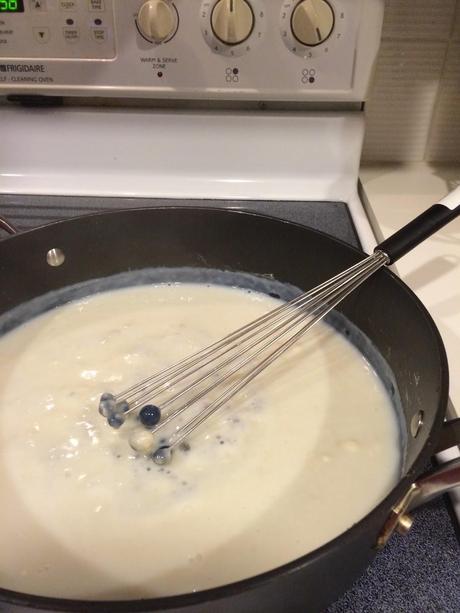 Now for the best part! The shrimp and veggies cooked in CK Mondavi Chardonnay. While chardonnay is not my favorite wine to drink, it's my ideal choice for cooking. I know, I know, people always say you should only cook with wines you'd also want to drink — but whatevs, I like what I like and that's that. Hmph!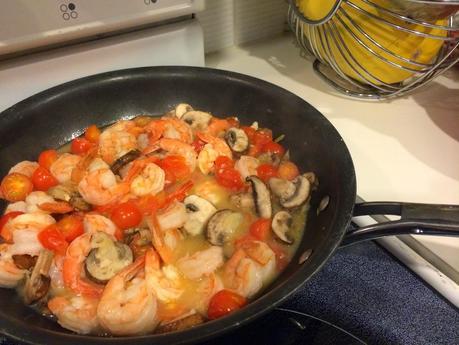 This particular chardonnay is medium-bodied, with a slight hint of oak. Lemon and citrus in scent, with flavors of apple and pear. According to CK Mondavi, it's perfect with things like roasted chicken, seafood (check!), hearty cheeses (check!), and pasts with cream sauce (check!). Three checks…not too shabby. Looks like I got the pairing just right!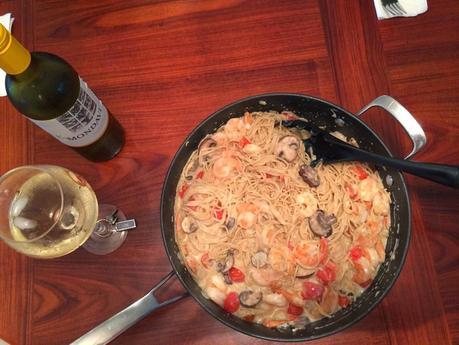 Aside from CK Mondavi's chardonnay, I also tried their Blonde Five, which I did like enough to drink. Baked apple, honey and lemon zest give it a real kick of flavor, and aromas of pear and honeysuckle make it easy on the nose, too. This goes well with grilled shrimp, mild cheeses, and spicy chicken. Eh, my shrimp wasn't grilled… oh well. The price points of these wines are spot on. Every little dollar we can save in the grocery store counts! CK Mondavi is the only American made/grown wine in the "supermarket wine under $10″ category. I'm all for wine under $10! Aside from it being affordable, a percentage of each bottle sold between May and August is donated to Intrepid Fallen Heroes (up to $50,000). Funded entirely by public donations, IFHF serves U.S. military personnel wounded or killed in service to our nation and their families. For more information, visit www.fallenheroesfund.org.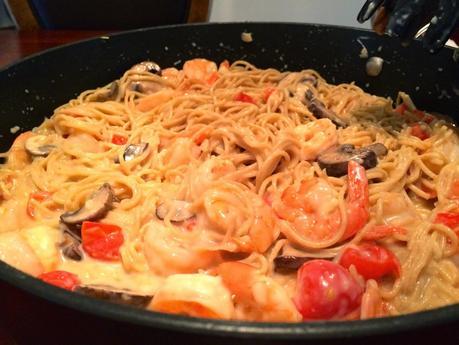 I'm excited to bring you guys this recipe because it really was a winner. My roommates and I enjoyed it during Sunday night dinner, and I have a feeling we'll be finding it on our plates again this summer.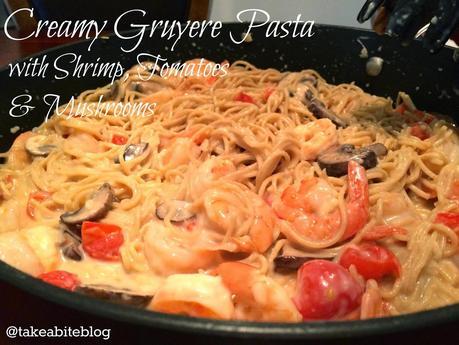 Creamy Gruyere Pasta with Shrimp, Tomatoes, and Mushrooms
Serves 6-8
12 oz. uncooked whole grain pasta
1/4 cup flour plus 1 Tbsp
pinch of salt
1 1/2 cup grated Gruyere
2 cups skim milk
1 ½ lbs. large shrimp, peeled and de-veined
1 Tbsp. butter
5 garlic cloves, minced
1/2 cup CK Mondavi Pinot Grigio
8 oz. cherry tomatoes, halved
1 cup sliced baby bella mushrooms
1 Tbsp. lemon zest
Cook pasta according to package directions. Drain and set aside.
Combine flour and salt in a sauce pan over medium heat. Slowly add milk while stirring with a whisk. Bring to a boil and cook for 1 minute or until slightly thick, stirring constantly.
Remove from heat and stir in cheese until completely melted. Set aside.
Melt better in a large skillet over medium high heat. Add garlic, shrimp, tomatoes and mushrooms and sauté for a few minutes. 
Pour in wine and top with lemon zest. Cover and allow to cook for two minutes or until shrimp is done. 
Add pasta and shrimp mixture to the cheese and stir until fully combined.
I was selected for this opportunity as a member of Clever Girls Collective and the content and opinions expressed here are all my own.