Ingredients
1200 gr bell peppers (green, red, yellow) cutted in wide slices
4 leek sausage cutted in fat slices
1 can chopped tomatoes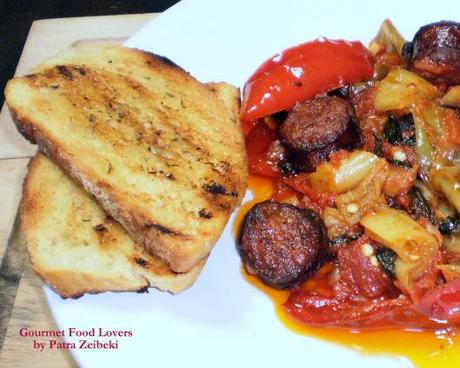 1 cup chopped parsley
2 green chilli peppers (optional)

1/2 tsp sugar
1/2 chopped onion
2 garlic cloves chopped
1/2 cup olive oil
Olive oil for frying
Salt, Pepper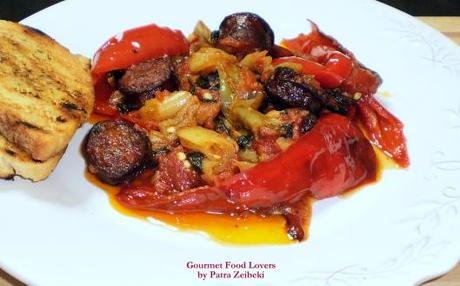 Preparation
In a frying pan, fry the bell peppers in hot olive oil until golden brown. Take them out on towel paper to dry. In the same pan fry the sausage until golden brown too, and let them dry on a towel paper.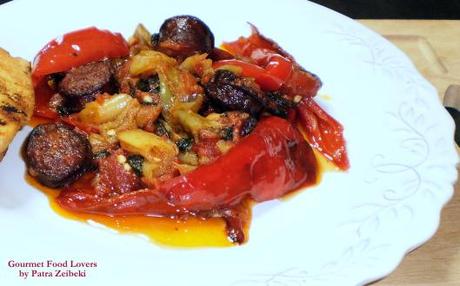 In a casserole add the 1/2 cup olive oil and saute the onion with garlic until white. Add the tomato sauce and 1 can water and reduce the heat after start boiling. Add the chilli peppers, parsley, sugar, salt, pepper and let them cooked covered. Mix occasionally and let the sauce stay with the tomato and olive without water.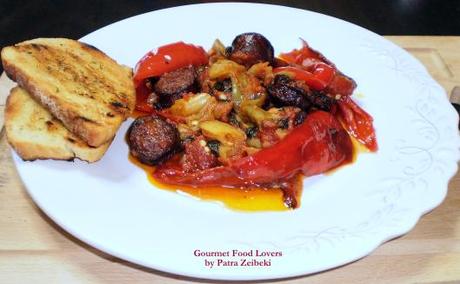 In a wok add the sauce, the bell peppers and the sausages and let them boil once or twice with the sauce.
Good Luck!!!
Foto: Patra Zeibeki