In Argentina, Christmas is traditionally spent with family members and the main celebration takes place on Christmas Eve (Nochebuena). Families like to get together at home for a big meal and plenty to drink. Like any other party, it is polite to bring something with you as a contribution if you are a guest. Here, the family often agree in advance who should bring what, (e.g someone should bring the salad, another bring the wine and more often than not, the party is likely to be held by the person with the best grill!) Given the heat at this time of year, some prefer to eat cold food, (including the world famous Argentinian meat obviously!) but others will have the traditional asado. Another option is to eat out and some restaurants will offer a fixed price menu for Christmas Eve. This can be a little more expensive than usual and you will need to book in advance. Many tourists will be looking for somewhere to enjoy the festivities on Christmas Eve and some tango houses put on a show where you can enjoy good Argentinian food and music, so this is another alternative.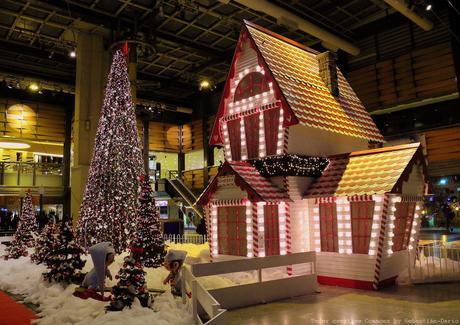 At midnight everyone gathers to make a toast and maybe watch some fireworks before opening gifts. There will probably be fireworks all over the city at midnight including near the famous Obelisco which is always busy at any time for celebration. At around 2am, people start to return home and some will go on to other parties with friends or a nightclub. The clubs will open at around 2-3am and the parties continue into Christmas morning.
Public transport and taxis in the city on the 24th will be very limited between 9pm and 3am so you should bear this in mind.
Christmas Day is a more tranquil affair with many people sleeping off the excess from the night before. People tend to gather again for lunch with family and friends for maybe yet another asado or possible just to eat leftovers from the day before. You should also remember that most supermarkets and smaller shops will be closed on the 25th.
If you don't have any plans want to look at options for restaurants or tango shows, then here are some options to help you find something suitable:
La Ventana offers a special show in the heart of San Telmo for Christmas Eve (and new year too) and you can make reservations online – www.laventanaweb.com/reservas
Piazolla Tango also offers a special evening of dancing, dinner and a party afterwards. You can find more information here –  www.piazzollatango.com/eventos.htm
Madero Tango offers a delicious Christmas Dinner, a tango show, a firework display on the river and the best view of Puerto Madero – www.maderotango.com
If tango is not your thing but you would still like to eat out, you may consider Parilla La Cabrera which was listed in Latin America´s 50 best restaurants in 2013, 2014 and 2015. They are located in Palermo and will be offering a special Christmas menu. You can find more information on their Facebook page, call them on 4832-5754 / 4831-7002. Cel: 11-2434-3333, or send an email to [email protected]
If you like Italian food, another option is Cucina D´Onore. They also offer a special Christmas menu which includes some drinks, a midnight Champagne toast and a ´mesa dulce´. More information at www.cucinadonore.com/promociones.php
If you would prefer to dance the night away in a Buenos Aires boliche, you can check the Christmas listings using this website where you are sure you find something to suit your tastes www.vuenosairez.com.
However you decide to spend Christmas this year, we hope you enjoy the holidays. Feliz Navidad!