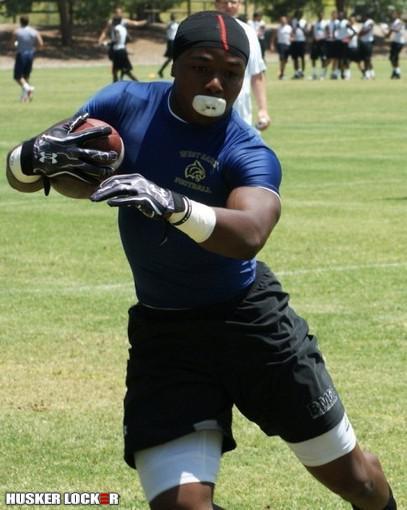 By Brandon Cavanaugh
It's no secret that Nebraska needs cornerbacks to fill the depth chart come 2012. 16 have already been offered during a year in which the Cornhuskers have to be picky about handing out scholarships. Jeffrey Coprich, Jr. of Valencia, California may earn one such offer before the 2011 recruiting cycle concludes.
Coprich, a 5'9" 185-pound running back/cornerback for the West Ranch Wildcats transferred from Golden Valley High in Santa Clarita, California and has been on a tear ever since. He didn't always have an eye for football, though. "One day, I was going to practice with my little cousin and got recruited by a coach there,'" recalled Coprich. He confessed that basketball was his original passion but, "I always liked playing street football."
He faced tragedy at an early age when both he and his sister were involved in a severe car accident. A three-year-old at the time, Coprich was able to survive. His seven-year-old sister, Essence Coprich and two year old cousin were not as fortunate.
Despite his loss, he uses her memory to help guide him. He continues her legacy by annually fundraising to get books donated to a library named after her located in Watts, California. "I've been through so much, it's made me stronger as a person and a player," he said.
Coprich began his career in pads as a member of the Mona Park Hurricanes than later moved on and begin playing for the Expo Panthers of rapper Snoop Dogg's "Snoop Youth Football League." He currently only holds offers from Army, Montana and Cal-Poly, but the recruiting season is far from over and the looks from other schools will likely intensify thanks to trips taken over this past summer.

Coprich attended camp at the University of Alabama and took an unofficial visit to Auburn. "I checked out (Auburn's) campus too and really liked their facilities." He travelled to Seattle to attend a Nike NFTC camp at the University of Washington where he garnered All-Camp Team honors.
Coprich eventually found himself at UCLA for an Elite Camp held by B2G Sports which brought in a horde of the country's top talent. He took the opportunity to visit the campus and see how the Bruins' program functions.
Finally, he played on former NFL wide receiver Keyshawn Johsnon's 7-on-7 team before joining Team B2G's as a cornerback and nickel back with wide receiver Gabriel Marks and all-purpose back Robert Lewis, both SMU commits.
Currently, Coprich is hearing the most from Army, Washington, UCLA, San Diego State and Cal-Poly, but after recently passing on information to Nebraska, he's hoping to hear from the Cornhuskers soon.
"I know coach Pelini has a great philosophy. It's all about the process. Prince Amukamara he came out to one of our B2G/Adidas events. He coached me up and taught me that you always need to be alert, stay strong in the head and be a leader on the field." He was also quick to comment on his admiration of Nebraska's current crop of linebackers and cornerbacks.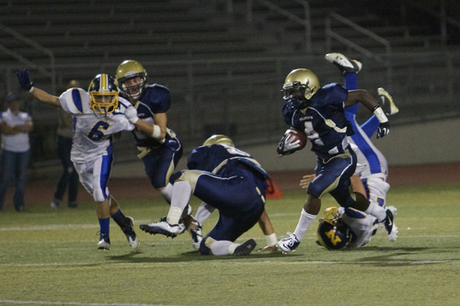 When discussing what he hopes to accomplish during his senior season in high school, Coprich made it clear that he takes academics as seriously as his work on the field as he's aiming to bump his GPA up to a 3.8 (currently 3.5). His 1352 SAT score solidifies his intentions towards academic excellence.
On the field, He's setting his goals high. "I want to lead my team to a league championship. That'd be the first time my school would win it, so that's my number one goal. My personal goal is to shoot for 2,000 yards and 20 TDs rushing."
He's well on his way, rushing for 400 yards and six touchdowns through three games this season. Coprich possesses incredible speed, but he's not one to avoid contact as a running back. At cornerback, his physicality continues to show and he professes his love of scrapping with wide receivers.
An extremely talented athlete, his information is being passed around the offices of several college football powerhouses. It's hard to imagine that some won't be giving Coprich looks in the near future. In the meantime, his focus is on the season and bringing a title home to West Ranch before hitting the recruiting trail hard.
Follow us on Twitter: @huskerlocker
Like us on Facebook: Official Husker Locker Page

Permanent Link to this Blog Post